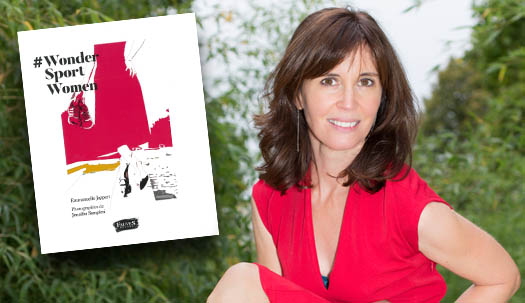 This year, the International Sport and Culture Association (ISCA) is putting the "sportlight" on active women. As well as working on two EU projects dedicated to women in sport (StreetGames' expansion of its Us Girls programme in Europe and the Alice Milliat Foundation's European Network for the Promotion of Women's Sport), we are featuring women who are actively promoting sport and physical activity – and raising their voice in this field. Emmanuelle Jappert, from ISCA partner Sport and Citizenship, is doing just that. She tells us about her new book (the article is a translated extract from the original story in French, photo by Sport and Citizenship).
Yes, it's true! Why did I write a book about sport and women though I was never a professional athlete? That's just it. It's exactly because I'm not at the centre of the sport movement that I felt the need to offer a book with a different approach: giving a voice to the women who represent society today, who have the intention of sharing their vision of sport and its importance in making their lives… a work of art.
For millennia, women have been the pillars of the family, all the while remaining in the shadows (and constantly sacrificing themselves). Modern women, however, are levelling the playing field, discrediting stereotypes. More and more the women of today are taking their place, even if this disconcerts the male sex, so that at last, all may benefit from gender equality – one that is more than necessary, one that is vital in order to address the challenges of tomorrow. And, in my opinion, sport has a big part to play in such a context.
Women are messengers
Even if women, as a general rule, never learn public speaking, contrary to men who are more inclined to speak in the media or before an assembly, they are priceless messengers for all, nonetheless. But aren't we in dire need of female role-models who can be clearly identified (Is Lady Gaga really an inspiring woman…?) and who are capable of showing others the way? This thought led me straight to the subject of the book.
I wanted to accomplish two things simultaneously: first, show that the book's 23 emblematic women are the symbols that we need now more than ever by interviewing those who dare to play a role in society; and second, tackle the subject of women's emancipation through sport, which allows us to reconcile both body and soul. When you're an adolescent, a student, a mother, a wife, a professional, a leader, a grandmother… isn't the proof that it's possible to practise a sport several times a week, have a balanced diet, have a happy family life AND a successful professional career, develop one's leadership abilities and take one's place liberating? If these women can do it, why can't others?
That's why #Wondersportwomen is more than just a pretty book full of Jennifer Sampieri's pretty pictures. It serves two purposes: the feminist cause, on the one hand, and the cause for natural movement on the other. Because even if the figures are increasing (50% of French women report practising a physical activity versus 37% on a European scale), they represented only 37% of licensed members in any given sport federation in France in 2014. That's very few.
And did you know that the youth has lost 25% of its physical capacity in the last 40 years (those aged 9-16 years run slower and for a shorter period of time)?! Since we know that adolescence (14-20 years) is a period during which girls abandon physical activity more than boys do (-45% versus -35% respectively), we must be aware of the great importance of talking about the positive impact of physical activity on our daily lives and professional success.
Moving to live
Of course, nowadays, everyone knows that you have to eat five fruits and vegetables a day, exercise regularly, etc. However, how many of us actually apply that knowledge in our own lives? Just a few in reality. The vegan and running trends might make us believe that humans have understood at last how to live a balanced lifestyle. Though this new-found awareness exists, only a minority feels concerned by it. The more numerous we are to contribute– even in small ways, to highlighting good practices, the faster the results will be felt. Who knows?
Maybe a young woman who can't find the motivation to go for a jog will be inspired by Laury Thilleman's state of mind? Maybe an overwhelmed mother will find less excuses while reading Angélique Gérard's words? Maybe a thirty-something year old Instagram enthusiast will be inspired to post photos of herself exercising, like Lorie Pester or Cyrielle Hariel do? These 23 women aren't in the book by chance, far from it. I've followed the majority of them for years on social media, I read their books, I meet with them, and I know some of them personally. Then, one thing led to another, and the pieces of the puzzle all naturally fell into place so that each of them, in her own way, could share her way of life, and how important it is to keep moving…
The #Wondersportwomen really do choose to have everything, though not all at the same time, and they put one non-negotiable factor at the heart of their lives: physical activity.
Choosing your sport
Running, boxing, football, Bikram yoga, Swedish gymnastics, Wu Tao dancing, swimming, participating in a Mud Day… The possibilities are endless so you can have fun while enjoying the benefits. As for sport in general, it's a brilliant pretext for addressing life's more pressing themes with a feminine view. Sport is a great avenue for surpassing oneself, for growing, for discovering oneself, for sharing and for testing oneself against others, and simply for one's own enjoyment. When we go through a negative experience, for example, sometimes all it takes is a jog in order to break away from it. During the activity, without having actively made the choice, thoughts converge and often the solution to the problem materialises. The price: a good pair of trainers. But above all, it takes willingness, perseverance and a bit of discipline…
I knew that by picking the brains of these women, who did us the honour of taking part in this adventure, I was in for more than just pleasant surprises. Little did I know however, that every one of them, without exception, would have opened up so sincerely and enthusiastically. And, as I suspected, they also have a lot of things in common: even though boldness is a typical trait of theirs, they can, in spite of their stature, suffer from a lack of confidence, as we all do at times. Yet, their strength lies in the ability to ignore their fears, their fatigue, and their hardships, regardless of the form these might take.
But more than that, the #Wondersportwomen manage to transcend these challenges. For them, sport is a way of structuring their lives and lets them be their own coaches. In conclusion, I'm deeply convinced that sport is a force that can amplify women's voices, allow us to get past questions of gender and change mentalities so that at any age, every woman realises the importance and benefits of exercise.
Together we can change the game
I would like to emphasise that this is a collective work above all. This adventure would never have been as intense without the complete and total investment of photographer Jennifer Sampieri, whose boundless artistry has made the book a visual masterpiece. From the beginning, the Fondation Alice Milliat and the think tank Sport and Citizenship have believed in this project. They gave me the means to see it through. Thanks to editor Yves Michalon and Fauves Éditions, the photos and interviews mirrored one another perfectly. And thanks to the financial support of the FDJ (Fédération Française des Jeux) and the AS International Group, we were able to develop this beautiful book on a much larger scale. We are also grateful to Women Sports and FemininBio magazines as well as LiveMore magazine by Biotherm who gave us their support through their coverage of the book so that its messages could reach a wider audience. Together, by combining our strengths, we will succeed in changing the game.