What is NED? It's No Elevators Day, simple as that.
And even simpler is being part of it. When we climb the stairs we make it happen, step by step.
Step 1: Visit the NED website and read this information and also this.
Step 2: Register your email.
Step 3: Register your event.
Step 4: Share your event using the hashtag #NoElevatorsDay.
And voilá, done!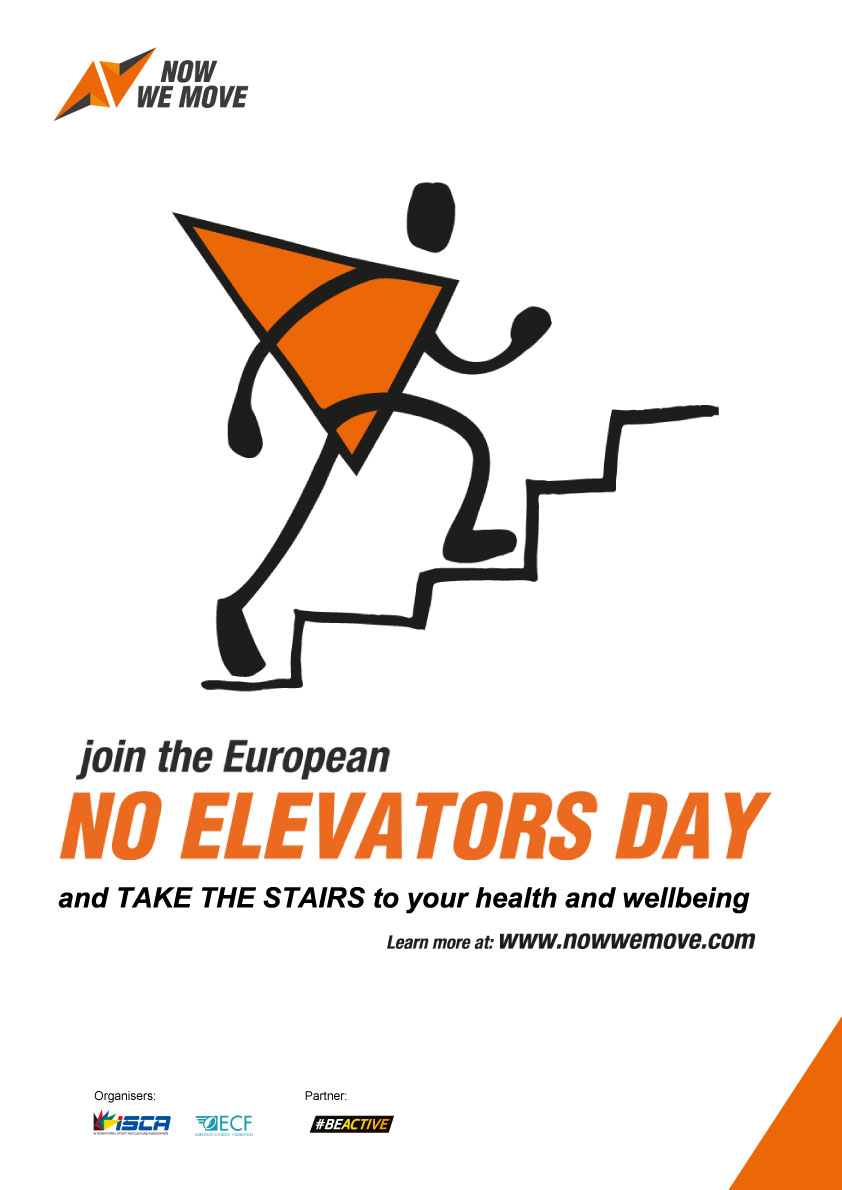 When you have climbed these four "stairs" you will register as a member of a team that has already organised 14,105 MOVE Events combining their efforts to combat inactivity in Europe and beyond.
With your help we can continue to motivate people to adopt a more physically active lifestyle. At the same time we will demonstrate that it is possible to change behaviour be setting a good example.
Proof of this is the contributions and the added value that all participants from last year (in 60 cities in 21 countries) brought to the initiative.
At P. J. Šafárik University in Košice, Slovakia, they offered activities (blood pressure measurement, measurement of body composition) at the 10th floor. Every stair was marked with number of calories burned and after walking all floors, the participants got the chance to win a prize in a raffle.
Another good example came from Manchester, where three buildings and four organisations took part in two No Elevators Day events. 130 people were moved and they were quite active on social media, as you can see.
And in USA in response to Earth Hour, students at a university, carried out "Lights Out for 1-Hour" from 20:30-21:30 on the last Wednesday of every month and combined it with "No Elevators Day" on the same day. Besides further promotion of energy saving concept, they are also encouraging students to do something for their health and bodies. Promotion was mostly done through informative and promotional posters near elevators and on the halls of the university.
Simple gestures, big effects.
And if the next example was yours? You too can be a MOVE Agent, an agent who works towards real effective change of the way people see movement.
If you want to know more about how to organise an event here you find our toolkit.
And now that you have climbed all the steps, have fun! Because as Barbara Damuani said "fun is the magical element of life."