These were the closing words of External Trainer Antonio Saccone's presentation on the first day of the offline training for the Youth in the MOVE project this week. Developed by ISCA (Denmark), SESC Sao Paulo (Brazil), UBAE (Spain) and V4Sport (Poland), the Youth on the MOVE training gathered 29 participants, 3 trainers and 8 experts, from 18 countries, who arrived in the city of Barcelona on Wednesday to start a journey of inspiration, motivation and networking.
But what if you're not a Messi or a Ronaldo? And what if you've never played a game of football in your life?
In an atmosphere full of diverse perspectives, the participants joined Antonio in his open debate on the concepts of sport and physical activity and how they influence societies. With the arguments ranging from aspects of recreational play to professional elite sports, all of the participants were able to express their points of view, talking about perceptions from their countries and issues that are relevant to different contexts.
The Youth on the MOVE training participants are young volunteers from Europe and Latin America who are delivering grassroots sport and physical activity initiatives in their communities. At the end of the project, they will stage a NowWeMOVE campaign event of their own.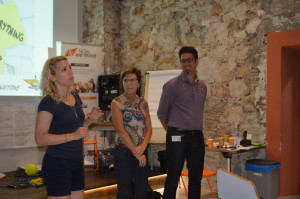 The evening session was led by a presentation of the campaign in Brazil (MOVE Brazil), its expansion in Latin America, and its current situation in Europe. Eduardo Uhle and Maria Luiza Souza Dias, from Sesc São Paulo, and the campaign's European Manager, Laska Nenova drew from their experiences to inspire the participants to take effective actions and new ideas home with them. Part of the process of initiating these actions, they said, was to identify their citizens' need for physical activity and then engage them in activities that motivate them.
In a society where information travels from one side of the world to the other in a blink of an eye, role models can inspire millions. Stars are often the obvious role models because of their public profile. They represent something bigger: setting the hardest-to-reach goals, achieving them and being the "best" at what they do. So, in Antonio's words, "we still need Messi, we still need Ronaldo" to show us how to aim high.
But motivating people to be active is not just the responsibility of elite athletes. Now the Youth on the MOVE participants are learning that their role is just as important. There are more grassroots sport volunteers out there than elite athletes. They have direct contact with the citizens they want to inspire to be more active. So we need them too.
Find out more about Youth on the MOVE, the NowWeMOVE campaign and MOVE Brazil.
Become a MOVE Agent or Movedor [Latin American MOVE Agent] and be a role model for your community