What is it like to MOVE people in Greece and why does physical activity have a crucial role in people's lives?
Epaminondas Konstas is an active MOVE Agent in Greece, a Certified Personal Trainer and a Group Fitness Instructor. He has graduated from the Department of Physical Education and Sport Science of Democritus University of Thrace and holds three majors: a main one in Adapted Physical Education (exercise for people with disabilities) and secondary ones in Basketball and Aerobics. Epaminondas is responsible for the 'Outdoor Gymnastics in Athens' project and believes that physical activity should be an integral part of all people's lives. It should be inclusive, entertaining and sustainable. For him, the NowWeMOVE campaign is a movement, motivation and activation and also a baseline for keeping the Greeks physically active and healthy.
Why did you decide to study physical education and sport? Do you think that sport and physical activities are an important part of Greeks' daily lives?
Epaminondas Konstas (EM): My decision to study Physical Education and Sports Science stems from my attachment to sporting activities during my childhood. I couldn't think of myself without taking part in a sport or physical activity every day, so when I grew up, I decided that this is what I wanted to pursue. It was a way of expression, relief and socialisation. Nowadays I believe that most Greeks have begun to incorporate physical activity into their daily routines, but the numbers are still very low so I cannot say that sports and physical activity play an important role in their everyday lives. The duration and frequency of their activities is inconsistent, and most Greeks drop out within the first six months of starting an activity.
The European Fitness Day, on 15 September, moved 294 cities in 23 countries across Europe with a total of over 800 different activities. Could you describe the European Fitness Day you organised as a MOVE Agent, its impact on the public and why you would urge other people to engage as MOVE Agents in their community?
EM: The European Fitness Day was an important day to me. I managed to motivate people to participate in sports and fitness activities in gyms in cooperation with the vocational education and training school GRAFTS HELLAS, where I am a Promoter. I organised free third generation programmes provided by the commercial centre RADICAL FITNESS. RADICAL FITNESS is a leading company in the fitness industry and distributes innovative Fitness group exercise programmes, so I chose UBOUND (individual trampoline workout), a popular, fun and efficient training tool. People were very enthusiastic about UBOUND, had lots of fun while getting sweaty and did not struggle with difficult exercises and combinations. I would urge people to become MOVE Agents in order to gain a professional standing and respect from local bodies and associations in their region. They will also be part of a European family tackling the so-called "inactivity pandemic".
You hold a Primary Major in Adapted Physical Education (exercise for people with disabilities) and you specialise in working with people with multiple sclerosis. Are people with disabilities engaged in physical activities in Greece? What changes could be done at the local level in regard to the societal integration of this target group through sports and physical activities?
EM: Major problems faced by people with disabilities are depression, isolation and mood swings that are caused by the nature of their disability and society's response to it. Physical activity benefits people with physical and mental disabilities in various ways: social integration, increase in self-confidence, mood boosting, pain relief as well as their perceptions of how to support their families and contribute to society. Unfortunately, there are many inactive people who are not aware of the benefits of physical activity, either because they have given up on life or lack the necessary knowledge. On the one hand, people with disabilities must have access to sport facilities and fitness centres, and on the other hand, information sessions on the benefits of exercise and activities for people with different types of disabilities should be organised by municipalities, clubs, clinics and fitness experts.
GRAFTS HELLAS has been a key supporter of the NowWeMOVE campaign in Greece since 2014 with presentations at annual international conferences (International Health & Fitness Congress) and additional events during MOVE Week. How do you feel being part of a wider movement and what are your expectations for the coming year's NowWeMOVE campaign activities?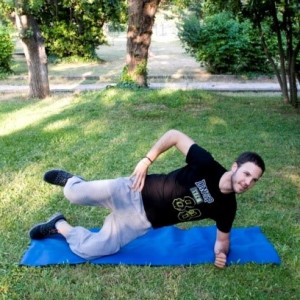 EM: It's really a great pleasure to participate in this movement for the fourth year. I feel that people are in need of motivation, proper guidance and accurate information, and fitness experts and professionals are responsible to provide it to them. We need to be enthusiastic, passionate and ready to integrate people into the world of movement and physical activity. Our body is designed for moving and we need to understand that we have to take good care of it. My expectations for the NowWeMOVE campaign next year is to motivate more people to participate in the campaign, with an emphasis on parents with children. I would like to raise awareness among parents about the benefits of physical activity, as they will then convey these messages to their children. I also intend to stress the importance of physical activity for elderly people and convince this target group that exercise has no age barriers.
The vision of the NowWeMOVE campaign is to get "100 million more Europeans active in sport and physical activity by 2020". Do you think the Greeks will be able to become more active and positive towards their involvement in physical activity by then? How can you emphasise the health benefits of physical activity to the Greek community?
EM: As I have mentioned, the Greeks are already including physical activity in their daily lives. The majority prefers organised events, like running or cycling rather than gyms or fitness clubs. They prefer outdoor activities and unconventional ways of exercising. But again it depends on us; how much fitness experts and professionals care about people, their needs and basic principles of physical activity. We have to build a network and create a circle of people who will be determined to follow us in being physically active. We must therefore create leaders in fitness and physical activity. When it comes to the health benefits, the starting point must be the school: fitness and sport experts have to target children through physical education programmes and parents via information sessions. We can build a healthy world where physical activity acts as a means of prevention-intervention-rehabilitation in people's lives only if we focus first on education and second on the family environment.
BIO
Epaminondas Konstas is a Certified Personal Trainer, a Group Fitness Instructor, a Group Fitness Proponent at training provider GRAFTS HELLAS and a Master Trainer at RADICAL FITNESS Company. He has presented exercise and fitness programmes on Greek TV and has written for popular websites and magazines. He is responsible for the "Outdoor Gymnastics in Athens" project and the Fitstudio  website. He has a Master's degree in "Maximising Athletic Performance and Efficiency" while his thesis examined the impact of exercise on people with multiple sclerosis.
Find out more about European Fitness Day: https://european-fitness-day.nowwemove.com/