By Antonio Saccone, MOVE Week National Coordinator for Slovenia
In the frame of the Football Against Racism Action Weeks, SD Partizan Skofja Loka organised the first demonstration of "walking football" in Slovenia. The event took place on 17 September in Skofja Loka, a beautiful medieval town 25km from Ljubljana. The local daily centre and the Municipality were partners in the initiative.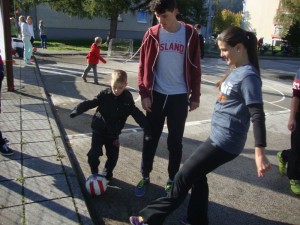 The idea of walking football is easy: running is forbidden, which makes the game more accessible to people of any age, gender, level of football skills and physical condition – including people with disabilities. Among the 80+ participants, around 40 people took the chance to try this relatively "new" discipline, including few "multiplayers" such as youth/social workers, sport coaches/instructors, representatives of sport clubs and young volunteers. Boys, girls and adults played together and had fun. For some of the young girls, the activity was a good way to approach football for the first time because they could comfortably explore the game in an innovative and calm way. The initiative can be considered as follow-up to a seminar organised by the ISCA last May, where the discipline was presented by the Belgian partner OKRA.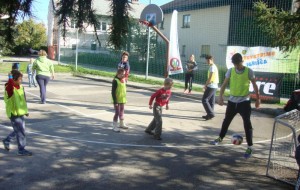 SD Partizan Skofja Loka and the Sports Union of Slovenia are participating respectively in ISCA's MOVE Quality and MOVE Transfer initiatives. The organisations are engaged in making sport and physical activity more accessible for everyone, including people with disabilities. The overall goal is to promote social inclusion, participation and healthy lifestyle in/through sport and physical activity. For this reason, both organisations are committed to using the universal inclusive power of walking football and other similar initiatives, also inviting other partners in the Slovenian framework to make sport and physical activity more accessible for everyone.