Three MOVE Week events were held in Turkey last year, and the cycling ambassador who organised two of them, Feridun Ekmekci, is now the country's first official MOVE Week National Coordinator.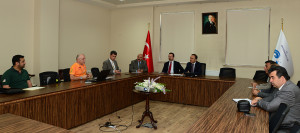 Ekmekci took to the Governor Ahmet Altiparmak's office in Erzurum in north-eastern Turkey, where one of last year's MOVE Week events took place, to kick-off Turkey's 2014 MOVE Week preparations. His presentation to the Governor and regional directorates of policy areas such as youth, sport and public health about MOVE Week's potential to raise awareness of the health and economic benefits of physical activity, particularly cycling, in Turkey and Europe made headlines on the Erzurum Governor's website in July.
But Ekmekci's advocacy efforts for MOVE Week 2014 have not ended there. Last week, he visited the Governor of Malatya and made his presentation again to the Governor's office and a cycling group from the area. This was a literally active push to get more Turkish MOVE Agents on board for this year's event, with Ekmekci climbing nearby Nemrut Mountain by bicycle to demonstrate that it would be a perfect site for a MOVE Week event.
A cycling enthusiast himself, Ekmekci said that the climate and landscapes make cycling events particularly attractive to people living in and visiting Turkey.
"In Turkey the events registered are generally cycling events, especially around Mugla," Ekmekci says.
"Mugla is a small province city, but a very famous city for tourism. It has the longest coastline, forests and ancient city sites and you can use a bike to explore them all year round. The weather is also very nice in winter, which makes it perfect for cycling tourism."
Eight events have already been registered in Mugla and, aside from cycling, they include a volleyball tournament and a trek on an ancient road organised by the Mugla Chamber of Commerce. The Mugla Governor is also backing the local municipalities' and district governor's efforts to organise a MOVE Week event.
This city alone has surpassed Ekmekci's modest forecast for MOVE Week 2014 in Turkey.
"We originally expected six events and 500 participants," he says. "But now we're expecting much more than that. Many people are calling me and inviting me to make more presentations. So now we're looking for financial support."
Find out more about Turkey's new MOVE Week National Coordinator here
Check out the MOVE Week events registered in Turkey