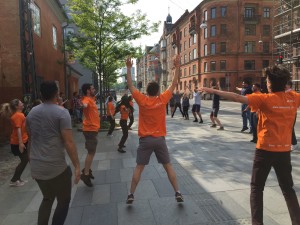 The MOVE Week is one of the most active weeks you can find! Since 2012 it has motivated and inspired people (from young to old) to find the move that moves them.
As the coordinating organisation of this pan-European week promoting sport and physical activity, we also got into the action.
Our staff at the
International Sport and Culture Association
(ISCA) organised a week full of activities and got our Copenhagen headquarters moving. Along with our visiting colleagues from the S2A Sport project and our fellow office mates from
DGI
Copenhagen, we found our MOVEs each morning before the working day.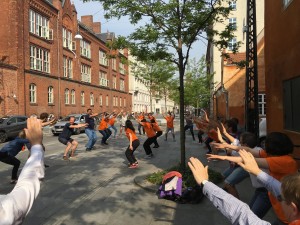 Monday:
Enjoying the sunny day we invited all colleagues from DGI to participate in the big opening of the MOVE Week and together we started with some stretching and team games.
Tuesday:
At the same time and in the same place, the ISCA team promoted more activities in the morning. ISCA Secretary General Jacob Schouenborg introduced the concept of
MOVEment Pills
and all participants from the S2A Project meeting that was happening in the ISCA office, along with our colleagues from DGI were invited to join and put into practice some of the office moves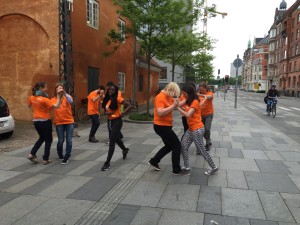 Wednesday:
Another day to get out of bed early and, like Messi and Ronaldo, demonstrate our skills in a very entertaining game of football. At the end after an intensive workout, were we ran, sweated and scored goals. Fair play was the referee of the match and declared that, seeing as it was MOVE Week, all of us won.
Thursday: A challenging weather day, but not even a cloudy sky could prevent ISCA and DGI from hitting the street and dancing to the flavour of Latin, African, frontiersman and pop rhythms. Everybody showed their own moves and shook off any traces of inactivity.
Friday: The last but not least, and after a physically active week it's time to rest the body and mind. Using this mantra we enjoyed some relaxing movements of yoga and found our balance. To paraphrase a well-known proverb, "ISCA sana in corpore sano", it was an active and invigorating MOVE Week.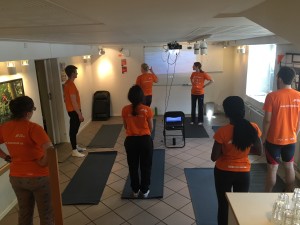 But MOVE Week is not over yet. On Saturday and Sunday the MOVEMENT will continue and tomorrow the ISCA team will jump into the icy waters of the Baltic Sea, for our monthly Viking challenge. If you are in Copenhagen, come and join us at Amager Beach. If you are in another part of world we invite you to take these two days and find your move at the MOVE Weekend. Don't forget to invite everyone to join: friends, colleagues, acquaintances, and strangers. Together we are making a difference!
And remember: It only takes one MOVE from many people to make a great MOVEMENT. Join us and help us make EUROPE MORE ACTIVE.
Use our hashtags ‪#‎MOVEWeek‬‬ and ‪#‎NowWeMOVE‬‬ and share with us the best moments of your week.‬‬