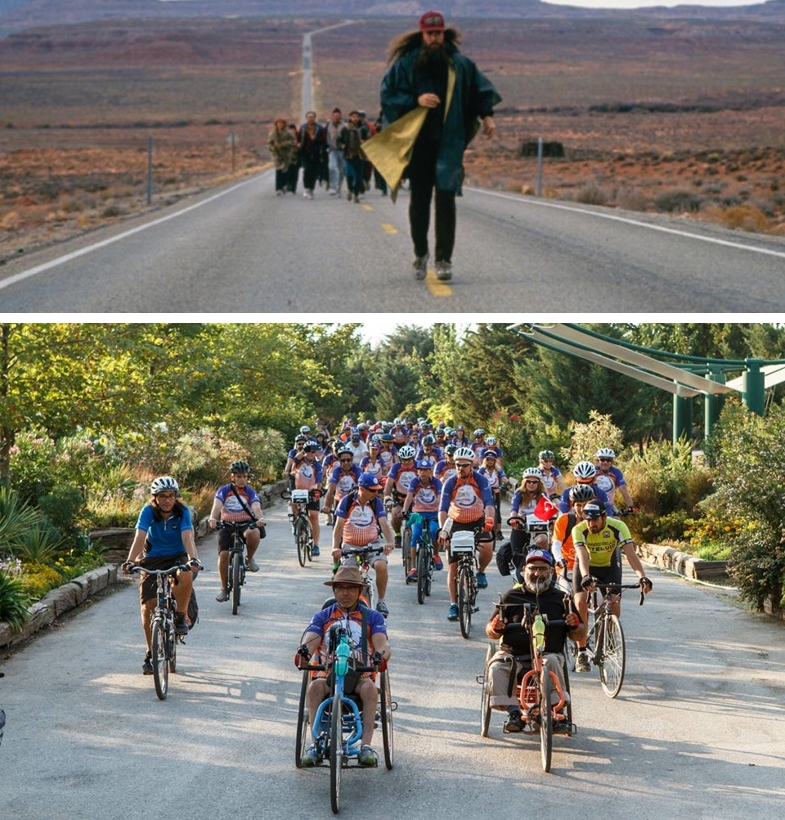 "That day, for no particular reason, I decided to go for a little run… What I was doing seemed to make sense to people… So I got company, and after that I got even more company, and then even more people joined in. Somebody later told me it gave people hope." Quote and top photo from the motion picture Forrest Gump (1994), bottom photo from ISCA/ECF cross-border cycling tour 2015
From 18 August to 17 September 2016, our team of cyclists will "go for a little bike ride". Do they have a good reason to do it?
And does the average European citizen have any reasons to accompany them?
Yes – and they range from health-related, to economic, to environmental, to social reasons that can have an impact on them personally as well as on their communities, countries and Europe as a whole.
1. Get on your bike and help tackle the inactivity crisis
Physical inactivity is
costing Europe 500,000 lives and €80.4 billion each year
. But there are so many easy ways to be active every day – and one of them is active transport. And you can show your community just how easy it is to be active on their way from A to B. This isn't Tour de France. So when the Journey of Hope passes by your city, you don't need to stand and cheer from the side of the road. Get into the action! Bring your bike, a friend or your family and ride along with the team when they arrive or depart your city. Follow them for as long as you like. You can even "hand the team over" to your neighbouring city. Follow the tour and find out where you can jump in at
https://nowwebike.nowwemove.com/
#BeActive
2. Active transport means a healthier environment
Some cities are taking important steps towards being more environmentally friendly. Some still have a long way to go before they rival bike-friendly cities like Copenhagen and Amsterdam. Active transport is a way forward that is accessible and healthy for Europeans and their environment. So whose turn is it to lead the way? It's your turn! The Journey of Hope will draw attention to your city, so show off what it has to offer or make some noise about what you hope it will have in the future: More cycle paths? A bridge for bikes? More patient motorists?
3. Welcome the team and be inclusive
The Journey of Hope is about connecting Europeans with a cross-border cycling tour and side events for communities along the route. Your friends and familiar aren't cycling enthusiasts? Bring them along anyway to meet the team or join in one of the side events in your town. Different cities will organise different activities, from welcome receptions with the mayor or media, to interactive shows and try-it opportunities. So if the thought of riding a bike gives you or your friends white knuckles, there are still plenty ways to join in your community event together.
Europeans have plenty to hope for. While the Journey of Hope and the
European Week of Sport
can't provide all of the solutions, they can symbolise what an active, healthy, environmentally conscious, included and connected future means to Europeans. And so can you.
The Journey of Hope is co-funded by the European Commission's Erasmus+ Sport programme and promotes the #BeActive message.