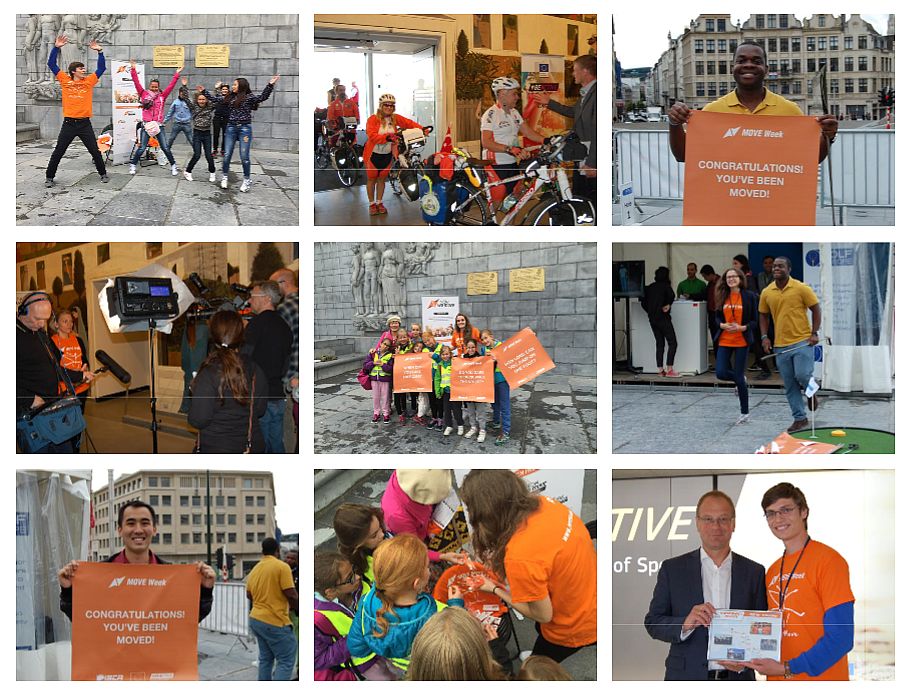 NowWeMOVE campaign staff and MOVE Week volunteers went to Brussels this week to mark the first European Week of Sport with one mission in front of them: to make as many people as they could in and around the Square Meeting Centre MOVE.
From 7-9 September, the MOVE Week stand at the Square attracted passers-by who challenges themselves with different physical activities, such as seeing how long they could hop on one foot, how many star jumps they could do, and how sharp their putting skills were. NowWeMOVE merchandise and prizes were on offer for the participants.
On the first day of the European Week of Sport, and with only two days to go before the NowWeBike cycling tour reached the Square, it seemed fitting for NowWeBike coordinator and ISCA Youth Officer Nenad Borkovic to present the European Commissioner for Education, Culture, Youth and Sport Tibor Navracsics with a map of the NowWeBike route.
And after 47 days and almost 3,000km of cycling, the NowWeBike team made its way into Brussels for the closing ceremony of NowWeMOVE's European cross-border cycling tour on 9 September at 2pm. The team made it one hour early, and were congratulated on their amazing achievement by MOVE Week coordinating partners ISCA and the European Cyclists' Federation at the MOVE Week stand in the Magritte foyer, prior to being greeted by local spectators at the closing ceremony.
The occasion also coincided with the start of the MOVE Week period in over 30 European countries. MOVE Week is the flagship event of the NowWeMOVE campaign and is supported by the European Week of Sport #BeActive. NowWeMOVE Campaign Manager Laska Nenova was also caught on camera, interviewed by the BBC in a series promoting physical activity and the European Week of Sport.
MOVE Week is happening in most European countries from 21-27 September, but please check with your National Coordinator for the dates in your country. And look out for MOVE Week if you are in Latin America – from 19-27 September in Brazil and 20-27 September in Argentina, Colombia, Peru and Uruguay.
For information on MOVE Week in your country, please visit https://www.moveweek.eu/