The 4th MOVE Week went beyond expectations! 43 participating countries, over 1700 cities, more than 5300 events and 3000 MOVE Agents activated Europe and Latin America this year. Hundreds of thousands of people had the chance to participate in various fun, active games, to try out new activities and to feel the joy of movement.
BULGARIA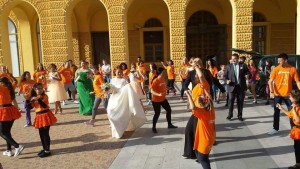 The MOVE Week opening FlashMOVE made the wedding day of Maria and Krasimir Kalchevi from Sliven, Bulgaria, even more special. The bride and groom and their guests took part in the FlashMOVE dance on 13 September before their wedding ceremony.
Zumba, functional training, yoga, footbag, table tennis, Pilates, different martial arts were some of the activities that the citizens of Plovdiv could try out during the one-day MOVE Festival on 26 September. The rainy day didn't stop people from coming along and spending some time moving!
800 employees of the Ministry of Finance in Belgium gathered in Brussels' famous King Baudouin Stadium to take part in MOVE Week grand finals. They played basketball with the Belgian national teams and participated in a 5 km run, athletics, aikido and Zumba lessons. The event was also attended by the President of ISCA, Mogens Kirkeby.
CZECH REPUBLIC
Czech Sokol Organisation's "Now You Move" developed a special series of office moves videos offering inspiration for MOVE Week at the workplace.
https://www.youtube.com/watch?v=xzc6E_truio

CROATIA

30 children with disabilities from SUVAG Polyclinic in Croatia played together with school children in the "magical forest", where they had to "transform" into buzzing bees, wing-swaying hawks, hopping rabbits and heavy-footed bears.
The local Underwater Activities Club Vodomar in Duga Resa, a small town in Karlovac county in Croatia, demonstrated diving skills to local school children by going underwater in River Mrežnica, as part of MOVE Week events in Croatia. The Club Vodomar is well known for their volunteer work in the field of ecology of rivers and cooperation with The Croatian Mountain Rescue Service.
More than 500 health-care workers from County of Međimurje in Croatia were involved in the Exercise is Medicine Initiative as a part of MOVE Week 2015.
CYPRUS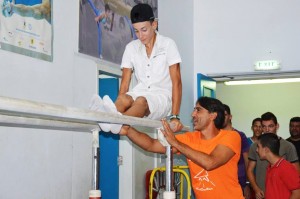 Children with special needs from Saint Spyridon School were introduced to gymnastics during MOVE Week in Larnaca, Cyprus, with the support of Viron Sport Club and the local Municipality.

DENMARK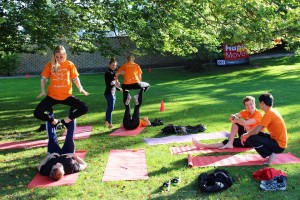 The #HappyMoves initiative was part of MOVE Week in Denmark. It activated people in the cities of Denmark Aalborg, Aarhus, Odense and Copenhagen through Acro Yoga, Panna, Bumber Ball, Street Soccer, Parkour, Dancing, Street Handball, Street Basket, Slackline and much more.
HUNGARY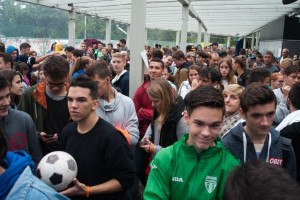 It was the first year when School Sport Day, originally set in Hungary, expanded in 3 other European countries. The first European Sport Day was celebrated in 800 Hungarian schools on 25 September. The main event was organised on Margaret Island, Budapest, and more than 500 pupils participated.Hungary
ICELAND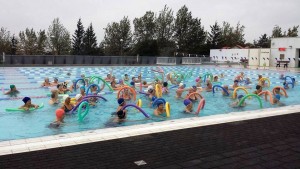 31 Icelandic municipalities participated in the Swim Challenge as part of MOVE Week. Volunteers from each municipality registered the number of swimmers and the distance covered in the local pools and reported them to MOVE Week partners.
IRELAND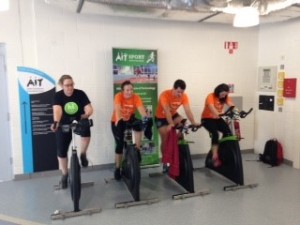 A spin cycling challenge in Ireland, organised by Community Games, HSE and Athlone IT, involved multiple relay teams cycling indoors for 30 minutes – a simple way to stay active at the office. 293 km were completed by the participants in the cycling challenge.
ITALY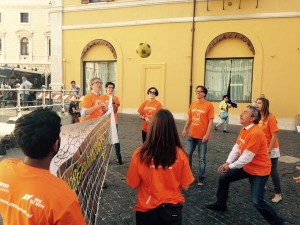 MOVE Week 2015 in Italy was dedicated to the rights of refugees. The Italian Union for Sport for All (UISP) mobilised events promoting the right of movement for all citizens. Movement was celebrated in the dual sense of health and wellbeing, and also as a right to escape war and poverty. The campaign was launched at a special presentation at the Italian Parliament. A joyful Flash MOVE flash mob in front of the Parliament followed the joint press conference with ANCI – Italian Association of Municipalities. Many joined UISP players in a volleyball demonstration, to support the MOVE Week and the right of movement for all citizens.
MOVE Week events were staged in 70 cities in Italy involving people of all ages in various activities.
LITHUANIA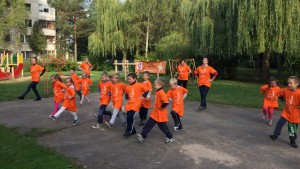 The Active Kindergarten Day's orienteering games were part of the events organised by the Lithuanian Sports University (LSU) during MOVE Week. LSU offered different sport activities to 1279 MOVE Week participants, twice as many as last year.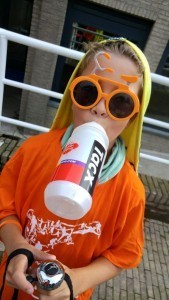 THE NETHERLANDS
Children competed on how slow they could ride their bikes at four locations in Netherlands as part of NowWeBike Slowbiking tour under the MOVE Week umbrella in Netherlands.Netherlands

POLAND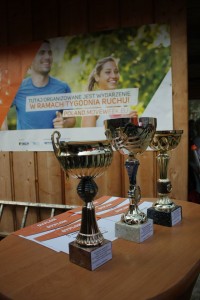 The Senior Games 2015 in the town of Gorlice was organised as part of MOVE Week in Poland. The elderly athletes participated in 4-kilometre Nordic walking race, speedminton, football, basketball, grass ring, grass volleyball, stone lifting and darts and  Zumba class.
Users of public transportation in Kedzierzin-Kozle in Poland could pay their bus tickets not with money but by demonstrating an exercise, pointed to by a wheel-of-fortune. The idea of this unusual promotion of physical activity belongs to two high-school students – Isabella Iwanejko and Eve Hałambiec – supported by volunteers and class-mates.
ROMANIA, MOLDOVA, UKRIANE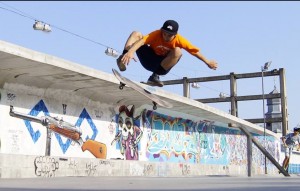 110 participants from Romania, Moldova and Ukraine participated in MOVE Week competitions in skateboard, climbing and mini-golf in Escalada Aventura Park. The Association Sport for All Suceava (AJSPT) in Romania promoted not only the physical activity but also the positive spirit of cross-border cooperation.
SLOVAKIA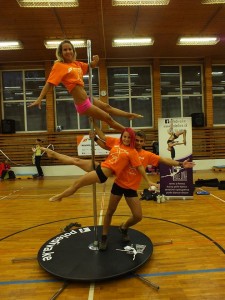 MOVE Week in Slovakia offered various exciting challenges to citizens of Kosice such as pole dancing and 10.000 Frisbee Throws Challenge. 42 Frisbee fans registered 10.485 frisbees caught.
The first Workout Park was opened in the city of Kosice during MOVE Week by the city Mayor.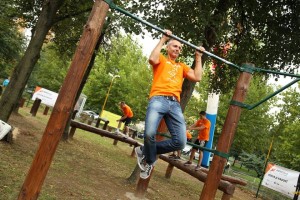 SLOVENIA
MOVE Week in Slovenia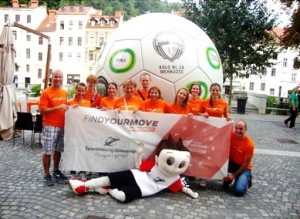 had a grand opening with seven FlashMOVE events, including one at Slovenian National Stand at the EXPO in Milan. More than 100 events focused on physical activity at workplaces, youth and human rights education.
"Wind in your hair" local festivals involved young people to try out different disciplines. Sportko, the mascot of campaign, took part in events MOVE Week events in Ljubljana and Skofja Loka.
MOVE Week met Football Against Racism Europe in the tournament "Plata – football against discrimination", kicked off by the mayor of Ljubljana Zoran Janković.
SPAIN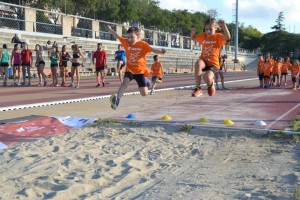 The Brain Breaks program, including a series of exercises that lasts 5 minutes, was introduced in some schools and in 250 offices of the real estate company CBRE in Spain. This is an effective way to take a quick break from tasks in the classroom or office. In the case of students or office workers it is a useful tool to help activate, energise and stimulate their brain, improving their concentration for the rest of the day.
A Mini Olympics was one of the special events organised during MOVE Week in Spain. It motivated kids to take active participation in sport regularly.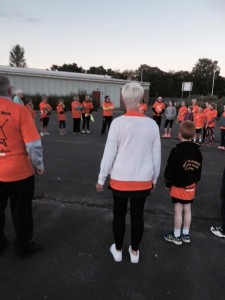 UNITED KINGDOM
MOVE Week 2015 in South Lanarkshire, Scotland, focused on some of the older members of the community – grandparents. It offered a week-long timetable of Go Play classes for children to bring along their parents and grandparents to join in and relive their youth.
Would you like to shake the continent next year? Become a MOVE Agent and be part of something huge!
Find Your MOVE while learning more at: www.nowwemove.com and www.moveweek.eu