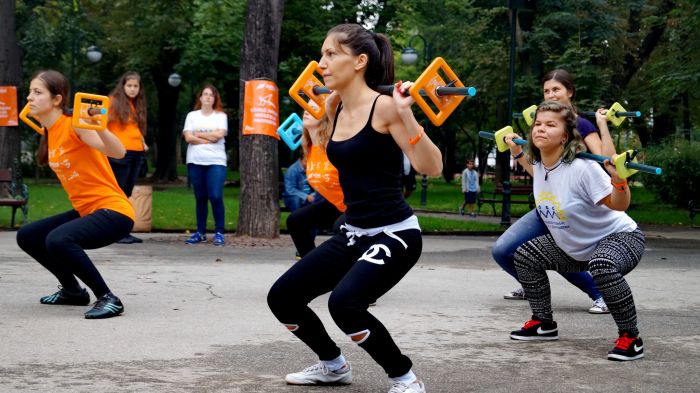 Let Bulgaria's NowWeMOVE National Coordinator, Maya Licheva, inspire your partnership prospecting efforts. Her organisation, ISCA member BG Be Active in Bulgaria, has secured support from retail giant Decathlon for the fourth edition of its flagship event for MOVE Week, MOVE Weekend, in Plovdiv and Varna, which will happen this weekend. Maya tells us how her organisation built on its partnership with Decathlon Bulgaria, which had previously provided equipment for its MOVE Week events.
This year BG Be Active actively offered to Decathlon to join us as partners and to organise MOVE Weekend at the store in Plovdiv. In turn, they agreed to help us with the location, workout equipment and volunteers, and have included the promotion of MOVE Weekend in their communication plan.
Through this partnership we are focusing on the use of parking areas in the big chain stores as a suitable venue for community sports events. It is an idea that is already popular, but the opportunities are not always fully utilised in Bulgaria.
MOVE Weekend has proven itself as a very successful concept, having taken place for three consecutive years. The multi-event program includes activities presented by different clubs and trainers from the city. The active two-day programme motivates citizens of different ages, gender, social status, physical abilities and interests to try different activities and find the most appropriate for them.
The programme on Saturday, 3 June, in Plovdiv will be dedicated to different dance styles, yoga, Pilates, trampolines, Zumba for adult and mothers with babies, racing with bikes, mini scooters and even a race for parents with strollers.
On Sunday, 4 June, we will focus on more intense and strength-building functional training and martial arts.
As a result of our successful partnership in Plovdiv, Decathlon will also support the MOVE Weekend event in Varna. The event is again a multisport festival that will include extreme sports, intensive training, yoga practices and fun challenges for the whole family. The event will take place on 3 June in Varna's City Garden.
The sports and activities will take place in two zones, a training area on the sports playground and a racing area in the parking area for different challenges.
By Maya Licheva, BG BeActive
Please contact Maya for more information about these events and visit the MOVE Week events page to find activities in your city or country
There is still time to register an event of your own
Find your MOVE at moveweek.eu