Across the world, many people are still not moving enough on a daily-basis. In fact, eight out of ten young people are not active enough. If we do nothing, lack of exercise could soon cause more deaths than smoking – we're sitting on a ticking time bomb!
In 2013, the World Health Assembly set a voluntary target to reduce one fourth of premature deaths from non-communicable diseases by 2025. WHO has now taken another step, a Global Action Plan that sets a plain and clear goal: "One hundred million people more active by 2030".
This number is similar to the vision we launched with the NowWeMOVE campaign in 2012.
"I strongly welcome the way in which the Global Action Plan of Physical Activity sees the promotion of physical activity not solely as a health issue, but from a broader perspective as a human right," Mogens Kirkeby, President of ISCA, notes.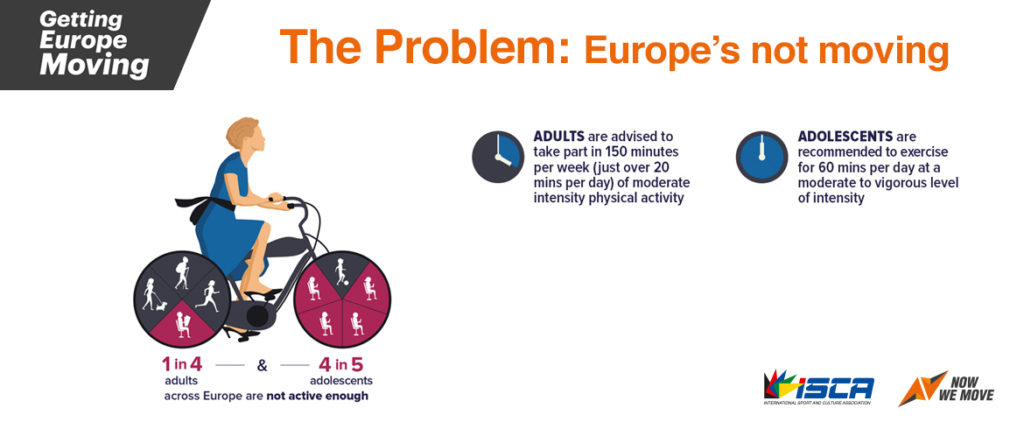 Choosing to move more is personal but this decision can be strongly influenced by the surrounding environment. This is one of the key factors in providing "safe opportunities for participation in physical activity by people of all ages and abilities, appropriate to local context, through diverse ways of moving, including walking, cycling, active recreation, sports, dance and play," as the draft document states.
With this simple call to action, the quest to get people moving more IS the joint medicine and cure. Proven by ISCA, our network, and all of the events organised under NowWeMOVE campaign, the ways are endless – from No Elevators Day, to European Fitness Day, to the FlashMOVE, to MOVE Week.
Just a bit over 20 minutes a day is all it takes. Think about it – how much time in a day do you spend on commuting from home to work? How much time in a day do you spend sitting in the traffic? What if you'd spend that time moving instead?
Action is needed to combat this universal threat and defuse the inactivity time bomb that we are sitting on. The time to stop the clock is now!
Read the draft WHO global action plan on physical activity 2018-2030 here.
Read ISCA President Mogens Kirkeby's comment here.
Want to take action? Join in the upcoming European Fitness Day, FlashMOVE or European School Sport Day.