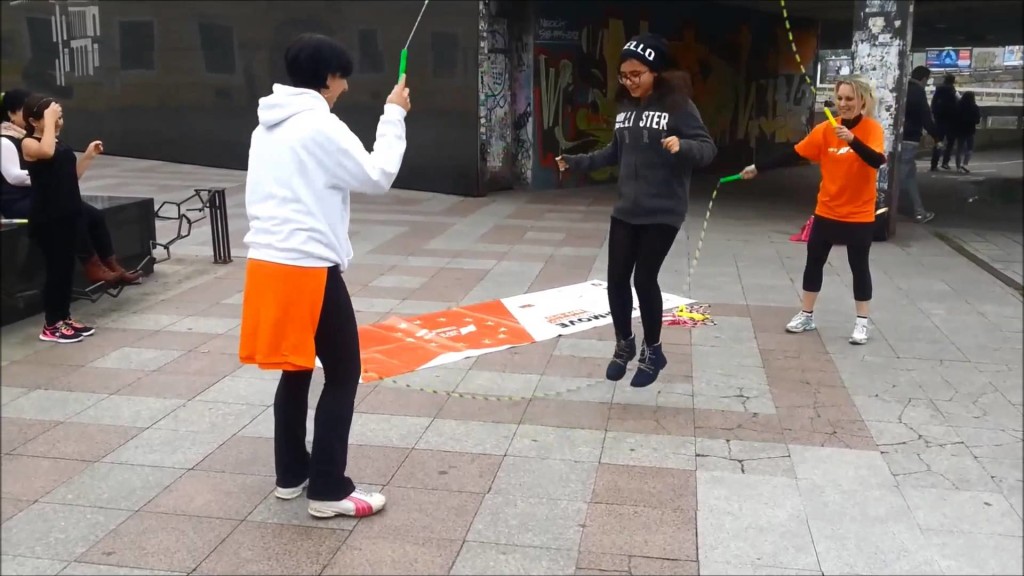 If you're living in Slovakia or enjoying a spring getaway there next week, chances are you will notice a lot of activity as you're exploring its cities – and most likely a few people wearing the same orange t-shirts. That's because Slovakia's MOVE Agents have managed to organise 220 MOVE Week events that will take place in 65 towns or cities across the country from 23-29 May.
In one of its flagship events, the Slovak Rope Skipping Association will follow up its "10,000 jumps for health" MOVE Week 2015 event, which saw 1250 participants making 86,090 jumps in Slovakian squares and schools last September, with an even more ambitious "100,000 leaps for health" (100 000 skokov pre zdravie) event this year.
Other highlights include:
 Bratislava in line – an extraordinary start to the season on 27 May (mimoriadny štart sezóny v rámci)
Bike to Work (Do práce na bicykli)
An event to salute the Olympic Day in Rio (Poprad, Banská Bystrica, Pribylina), including a week-long programme of physical activities in Poprad, a children's Olympic festival around Banská Bystrica, and a School Olympic Games in Pribylina.
How does Slovakia make such a strong contribution to MOVE Week year after year? The Slovak Sport for All Association, the National Coordinator of MOVE Week in Slovakia, believes it is its cross-sector partnerships, which always offer new ways to promote sport and physical activity. For example, in 2015:
"The Slovak Republic's Ministry of Transport, Construction and Regional Development participated during MOVE Week with their pilot project On bicycle to school with 100 participating schools. The schools not only carried out the events, they also came with ideas on how to improve conditions for cyclists," Peter Bakalár, who shares the coordination role with Ján Holko from the Slovak Sport for All Association, says.
Last year, MOVE Week also coincided with World Heart Day, so the Slovak Heart Foundation organised its own Heart Day. In over 450 cities and town, they measured blood pressure, cholesterol levels and promoted 30 minutes of movement per day.
Many other Slovak MOVE Agents moved their cities, villages, schools, public or private sport clubs over the week. Children from Materská škola (kindergarten) Bajkalská in Prešov challenged other children from nearby elementary schools to exercise together during MOVE Week. And delegates from an international scientific conference focused on sustainable development of kindergartens presented a programme dedicated to MOVE Week called MOVE your body.
"MOVE Week is a new inspiration for us, and we are looking forward this year's edition," Bakalár says.
And with so many MOVE Agents volunteering to make MOVE Week in Slovakia bigger every year, they are now a great inspiration for others.
Find more MOVE Week events in Slovakia on the official webpage
Find out more about MOVE Week