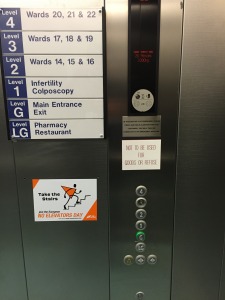 Three hospitals and five leisure centres in North and South Lanarkshire, Scotland, supported the first European No Elevators Day today by encouraging their staff and visitors to take the stairs instead of the elevators.
South Lanarkshire Leisure and Culture and NHS Lanarkshire estimated that their efforts resulted in 7420 individuals taking the stairs throughout the day.  Due to the nature of the buildings and organisations involved, it was not appropriate to officially 'close' the elevators but staff and volunteers were on hand for a minimum of 4 hours throughout the day, actively encouraging people to take the stairs and promoting the benefits of regular physical activity.
No Elevators Day was also promoted via electronic desktop to all NHS Lanarkshire staff computers from Monday 1 to Friday 5 June inclusively.  With NHS being one of the largest employers in the country, this had the potential of engaging with a diverse group of employees spread across the Lanarkshire region.
Simon Martin, NHS Lanarkshire Healthy Working Lives representative, said that "European No Elevators Day tied in with the launch of new walking routes around three hospital sites within Lanarkshire which Healthy Work Lives have been working in partnership with Paths for All to develop.  We are always looking for new ways to engage with employees and the public around the benefits of health enhancing physical activity and participation in 'NED' gave us an opportunity to open up this discussion."
Lauren Logan, Health Development Officer for South Lanarkshire Leisure and Culture and NHS Lanarkshire, was pleased to see the first No Elevators Day successfully implemented in Scotland:
"European No Elevators Day was the first of its kind and acted as a great engagement tool both within the leisure centers, offices and NHS hospitals who took part.  It gave us the opportunity to show people how easy it is to increase daily physical activity to benefit their mental and physical wellbeing," she said
John Murphy, (58), who was attending an outpatient appointment at one of the participating hospitals, said that seeing No Elevators Day being promoted caused him to think again about using the elevator when he arrived at the hospital:
"I would have absolutely have taken the lift (elevator) without even thinking! It is amazing what a little prompt can do to help you be a more active throughout the day!"
The hospitals and leisure centres that participated in No Elevators Day in North and South Lanarkshire were:
·        South Lanarkshire Leisure and Culture HQ
·        Hamilton Water Palace
·        Blantyre Leisure Centre
·        Dollan Aqua Centre
·        John Wright Sports Centre
·        Hairmyres Hospital
·        Monklands Hospital
·        Wishaw General Hospital
European No Elevators Day is part of the NowWeMOVE campaign, supporting the European Week of Sport – #BeActive.
Find out more here and follow the events of the day on Twitter and Facebook
Find out more about South Lanarkshire Leisure and Culture and NHS Lanarkshire