Physical education classes are usually not considered as important as science classes – parents prefer their children to take an extra math or physics class instead of running around the school yard for an hour. But they don't realize how that time spent on being physically active can help solve problems that every parent dreads.
First, physical activity builds discipline, character and positive social skills. Through physical education, children can also learn positive approaches to winning and losing and the basic principles of "fair play". This will help your child to avoid taking up bad habits, stay out of typical teenage trouble and become more organized, patient and resilient.
It will also benefit your child's health, improving the efficiency of their cardio- vascular system, expanding their lung capacity, and enhancing their senses and motor skills. Exercising regularly will boost their immune system and help them fight off infections.
A lot of parents have to deal with their children's problematic behavior in school. Atypical response is to consult psychologists or psychotherapists who may prescribe medication and that can be usually followed by social isolation, which makes the situation even more serious.
When hormones start raging (and even before that point), physical activity can help release the negative tension, boost levels of endorphins in the brain and lead to calmer, happier and more stable behaviour.
Your child is not getting very good grades? Why don't you try getting him/her to be more active? It is a proven fact that regular exercise can enhance cognitive abilities and lead to better academic results. As written in the 2014 Harvard Health Letter, exercise helps the memory and thinking through both direct and indirect means. It stimulates the release of growth factors – chemicals produced by the brain which take care of the growth of new blood vessels in the brain and the survival of new brain cells.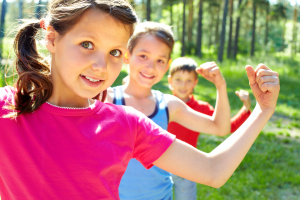 Help your children find their move at
https://moveweek.eu/ and http://34.77.57.47/
and provide a healthier life for them.