Children do not play as much as they used to and the abundance of time they spend in from of a screen certainly is a key factor. Canadian based non-profit organisation ParticipACTION, which aims to inspire Canadians to be more physically active, has just launched a new campaign called "Make room for play" to help turn children's virtual playtime back into active playtime.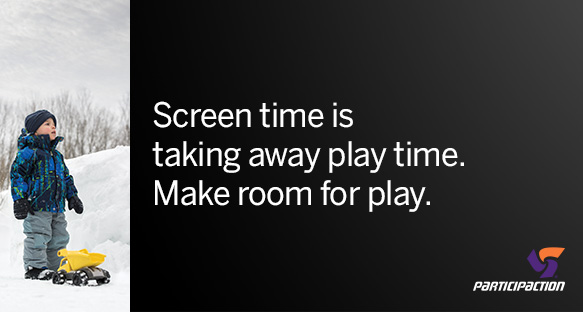 Canadian children spend an average of 7 hours and 48 minutes a day in from of a screen, be it watching television, playing video games, using a PC, tablet or smart phone. But it is not just the children' fault. We adults also have to admit that screens have become a tool to keep our kids quiet and occupied so we can get things done. The 'Sedentary Behaviour Guidelines for children and youth', prepared by The Canadian Society for Exercise Physiology, recommends reducing the time dedicated to screen by two hours a day. According to these guidelines children under the age of two should not be exposed to the screen at all.
Too much screen time does not only leave less time for children to be active. It may also make it hard for them to sleep properly at night, reduce their attention span and increase their risk of gaining too much weight.
"Make room for play" emphasises that moderating children's screen time is the key to the healthy development of present-day society. The campaign includes a series of videos demonstrating how the screen takes over the time that can be dedicated for active play. The website also offers tips for parents to find the balance between screen time and active playtime.
Find tips on how to reduce screen time here: https://www.participaction.com/make-room-for-play-2/take-action/
Read more about the campaign "Make room for play": https://www.participaction.com/make-room-for-play-2/