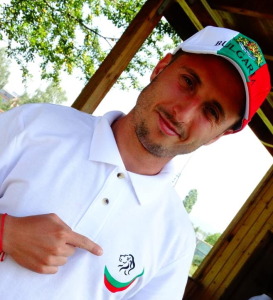 Dimitar Iliev – a 28-year-old teacher in a sports school in Sofia, Bulgaria, has become a source of inspiration to others. Even though it is not not always easy to organise an effective event, Iliev impresed the NowWeMove team with his passion – last year, all by himself, this young man managed to add a swarm of events to MOVE Week, worthy to be given as an example to our team and followers.
He joined MOVE Week in 2013 as a volunteer and participated in the "Sports Panorama" event which lasted two whole days and introduced people to a number of sports and physical activities currently developing in the country.
In 2014 Dimitar was already an event organiser and the job he did was remarkable. MOVE Week in Bulgaria was definitely enriched by his work as he put together a total of 16 open workouts in different sports like street fitness, cycling, martial arts, functional training, various dance classes, football, gymnastics, etc.
With the help of the coaches (some of whom you will be able to see in the video below) and by investing a lot of time in travelling and shooting sessions, the young man managed to move more than 220 people of all ages and a year later, most of them can still be seen regularly in their favourite sports classes!
"It was a great pleasure for me to organise these events during the campaign, to meet so many new people and have the chance to communicate with all of them," he says.
When asked where he found the motivation to organise this many and diverse events, he replied "What motivates me is the flame in people's eyes – people who want to help causes like ours to get more popular."
Dimitar is well aware of the success achieved in the campaign of 2014, and believes it will only get better. "With each campaign I see the number of people who want to be part of our cause increasing and this gives me hope there's always this 'one more person' who would like to be active."
We are looking forward to seeing Dimitar Iliev's work in 2015!
To get a better idea of what the young Bulgarian did for last year's MOVE Week, check out the video he put together!
If this short story was inspiring for you and you would like to become a MOVE Agent, you can Register Here anytime!
Keep on moving!