International bloggers get behind the NowWeMOVE campaign:
May was a busy month for the NowWeMOVE campaign. Starting with stair climbing on No Elevators Day (13 May), and finishing with a variety of MOVE Week events scattered all over the continent, Europe has been a hub of physical activity promotion. Every year the success of the campaign lies in the hands of all of you out there: MOVE Agents, partners and volunteers. But this year we also gained support from three guest bloggers who  have opened their virtual space to us and are helping us spread our messages among their followers.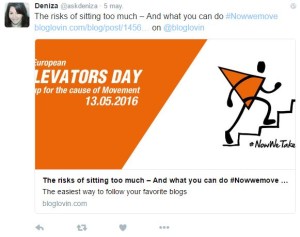 Deniz (Germany), from Ask Deniza, uses her healthy lifestyle blog to share her "[…]medical knowledge on Nutrition, Exercise and Healthy Living to guide you on your journey to a healthier human being". Over the past weeks Deniz has written and published pieces about No Elevators Day on her website, as well as in her followers' newsletter. Twitter and Facebook posts were also part of her strategy to promote and join us in our common mission.
Debbie Rodrigues (Belgium) also promoted No Elevators Day on her blog Debbie in Shape. In her members' newsletter she wrote about the benefits of adding physical activity to our daily routines and highlighted her new cooperation with ISCA and the NowWeMOVE campaign. On May 13 Debbie climbed many stairs and showed us a photo of her in action on social media.
Marischa (The Netherlands) has been sharing free online workouts for everyone since 2014, and for No Elevators Day she uploaded a Tabata HIIT workout donning our eye catching orange NowWeMOVE t-shirt. All her followers were encouraged to get active with this new fitness routine and to find out more about the biggest European physical activity campaign. Through social media she also showed her commitment to our common mission of getting Europe to move.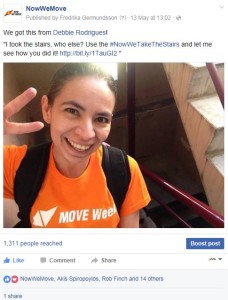 From the NowWeMOVE team we thank these three active ladies for joining in our cause and we look forward to keep working together and sharing our message to as many people as possible.