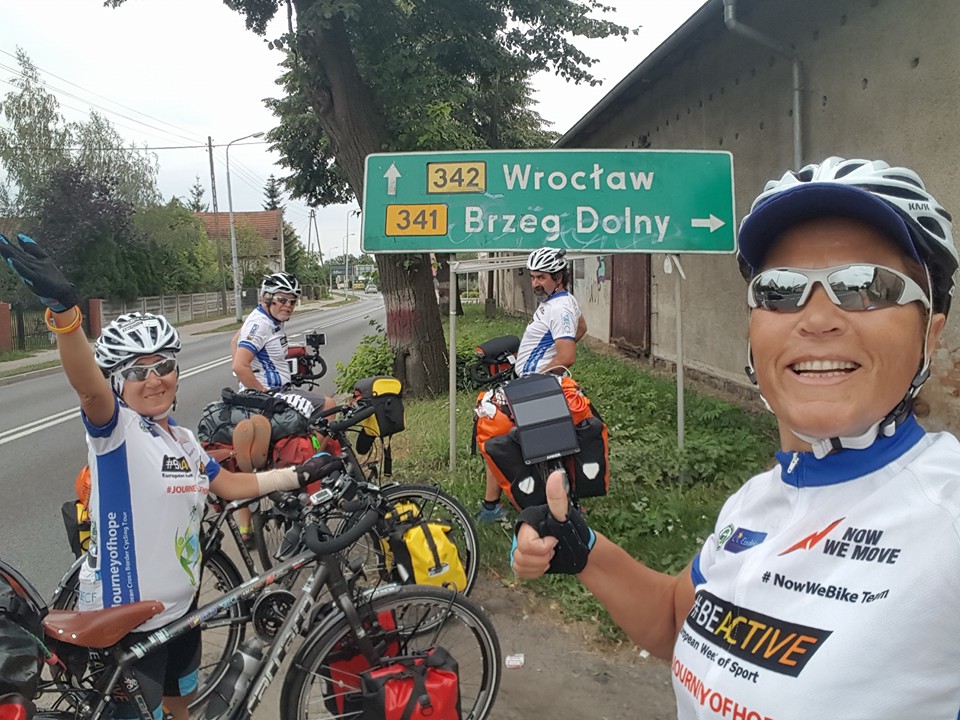 From waterskis and beautiful landscapes to the bustling city of Berlin and the dirt tracks in Poland, the Journey of Hope team's adventures continued this week as they crossed the border of their third country. Adnan Cangir takes us behind the scenes of week 2 of the Journey of Hope: Germany to Poland.
Day 7
Jagel – Hamburg/ Berlin, 59km
Today we started off from beautiful Jagel. We had breakfast while we were watching people waterski on one of the northern lakes here in Germany. We set out on a beautiful ride through this landscape. We had already planned to train in the afternoon in order to make it to Berlin in time for tomorrow's activities.
Day 8
25 Aug. Berlin – Eggersdorf, 60km
When we got to Berlin we were joined by a female volunteer group who organise workshops to teach immigrant women how to ride a bicycle. Aysel and Meliha also participated by showing the beginners how to ride a bike. It was great fun for everybody. That evening we stopped in Eggersdorf at a lovely hotel by a beautiful lake near Strausberg.
Day 9
26 Aug. Eggersdorf- Kostryzn, 71km
We crossed the border from Germany to Poland right in the middle of the bridge that goes over the river Oder. We stayed overnight in the first Polish town, Kostryzn.
Day 10
27 Aug. Kostryzn- Gorzyn, 114km
We started the day earlier than what we normally do, since we had 100 km to ride. At the end of the day however we cycled around 115 km. We think it happened because we had some problems with the GPS.
To anyone who wants to cycle in Poland: You should definitely avoid riding on the uncoated roads. They have the same kind of road surface as the famous beaches in Turkey! The extremely fine sand makes impossible to keep your bike on track. During the first half of the day we cycled along the separated bike lanes where you feel much safer. However during the second half we had to ride along the busy motorway, which can be a bit irritating. Nevertheless Poland is cheaper than both Denmark and Germany and a very nice country. Our destination is Poznan, about 100 km from here. Then we're ready for some events in Wroclaw and Krakow – and excited to meet some friends along the way!
The Journey of Hope is co-funded by the European Commission's Erasmus+ Sport programme and promotes the #BeActive message.