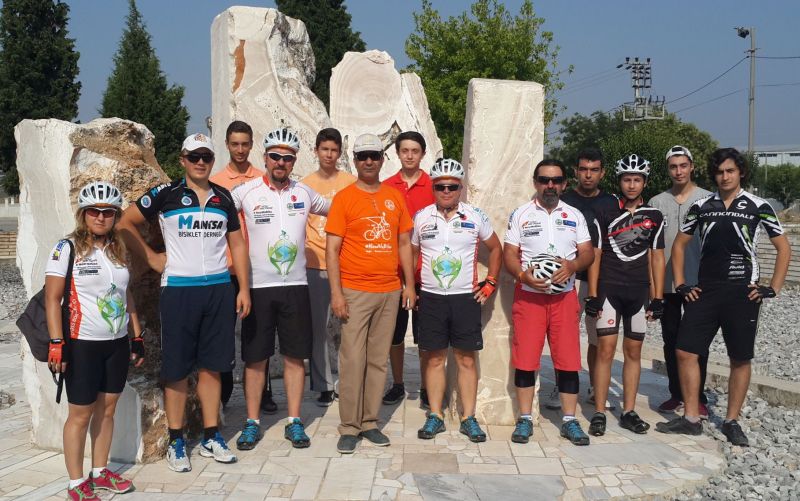 Cycling to Akhisar, NowWeBike coordinator Feridun Ekmekci's home town, was great fun. There was a stone park  on our cycling route which was made by Japanese artists. It was so interesting to hear that all the stones in the park symbolized different places on earth.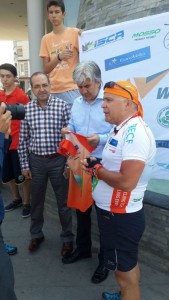 After that we visited Akhisar Municipality to meet the Mayor, Salih Hizli. He welcomed us warmly and we talked about the aims of MOVE Week, NowWeBike, healthy ways of life and our cycling routes to Brussels. He underlined that Akhisar is as a bike city in which most people use bicycles for transportation because of the flat roads. But he also said that the city needs new bicycle roads and to develop projects about sports and healthy lifestyles such as MOVE Week.
We then cycled to the ancient city, Thyateira, which is the part of the Pergamon Kingdom. One of the first churches also existed in the ancient city. The students from the department of archaeology and the staff are working hard to find other lost parts of the city. We talked about ancient art and structures with Engin Akdeniz, the professor of Adnan Menderes University, it was a valuable experience and we learned so many things about the history of Thyateira and ancient culture.
Turkey's NowWeMOVE coordinator presents to Nilüfer City Council
Feridun Ekmekci, who is also the coordinator of NowWeMOVE in Turkey, gave a presentation about MOVE Week, the aims of NowWeBike and cycling routes to Brussels at Nilüfer City Council. The audience asked lots of questions about being part of MOVE Week and we also had a press conference after the presentation. The public's interest in MOVE Week and NowWeMOVE is growing thanks to the tour!
By Emel Calkam
More information about the NowWeBike and its events can be found on the website: https://nowwebike.nowwemove.com/