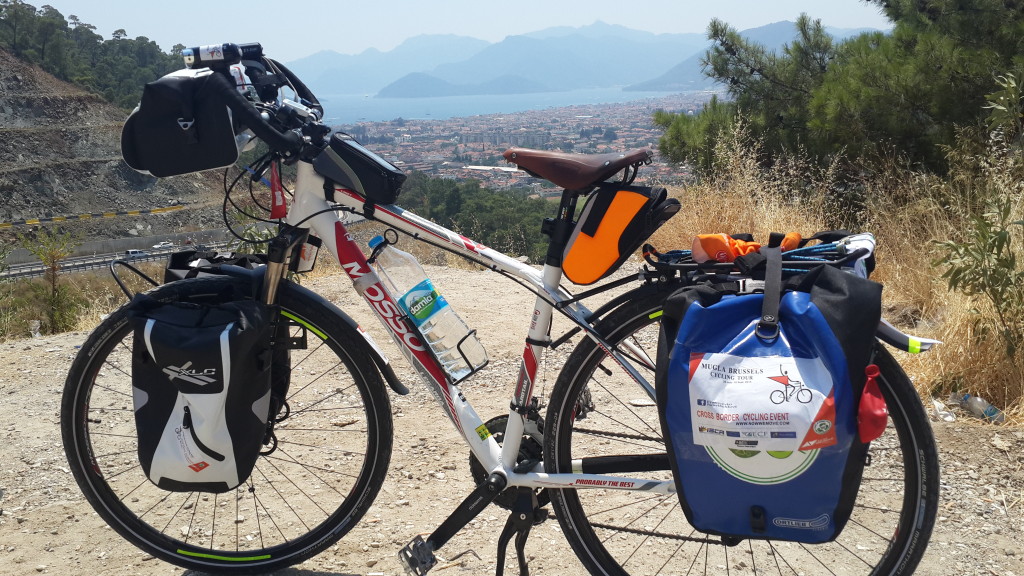 In upcoming weeks Emel Çalkam, NowWeBike blogger from Turkey will be the one sharing experiences from the NowWeBike tour. NowWeBike is part of NowWeMOVE campaign and will be taking place from 24 July to 9 September 2015. During those 7 weeks the team will cross 12 borders and cycle 2,700 km across Europe.
By Emel Çalkam, NowWeBike blogger
On the way to Marmaris, our cycling destination of 27 July, we had a break in a very nice village Gulagzi located 8 km away from the centre of Mugla province. Especially since Feridun Ekmekci lives in Gulagzi with his family, we couldn't but make a stop here.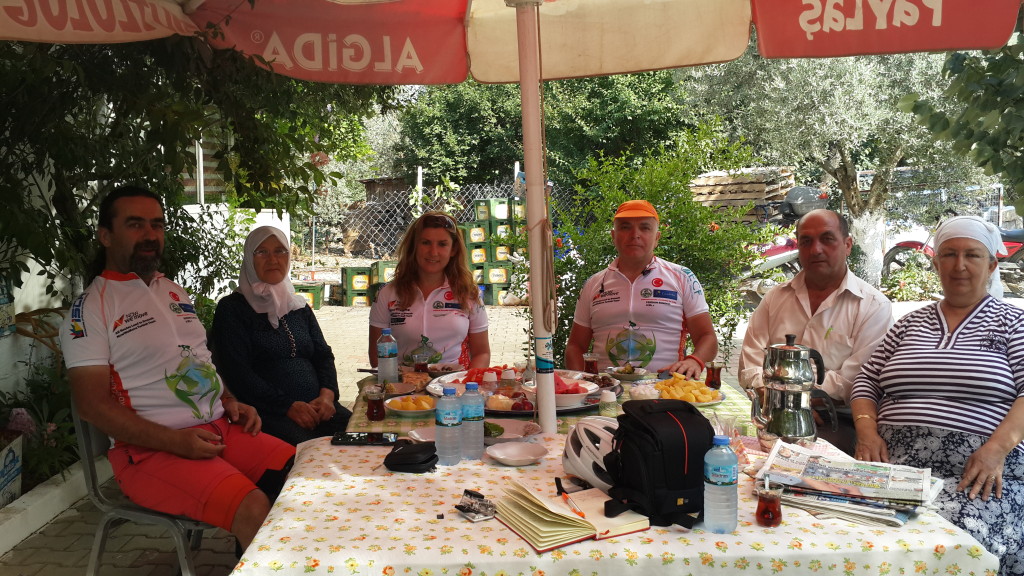 The headman of Gulagzi Village, Hasan Altas and his wife invited us for an Aegean type of breakfast: delicious meal of fresh tomatoes, green hot pepper, green olives, different kinds of white cheese, butter, jam, watermelon, bread… And all the food was local and home-made. The fresh weather of the village made us feel more energetic for the rest of the route to Marmaris, which lies 52 km from the village. Feridun Ekmekci and Adnan Cangir talked about the NowWeBike as a flagship event in the scope of NowWeMOVE campaign. The headman, Hasan Altas wished a safe journey to the team and sent his warm greetings to the parts of the NoWeMOVE campaign in Europe.
The NowWeBike team started cycling from Gulagzi to Marmaris at 9am. The route to Marmaris was nice but a bit hard because of the ramps near the centre. The weather was very hot and we had to stop for water, mineral water and even sun-cream. While reaching the city we felt the sea and wind. The sea view of Marmaris was really spectacular. The location of the city is between two intersecting sets of mountains by the sea. There are busy beaches, lots of bars and restaurants and plenty of shopping with bargains. One can also have a daily cruise around the turquoise coves, mountainous shoreline, ruins of ancient cities, and a cave. Marmaris is indeed city worth seeing.
In Marmaris local cyclists, cycling associations and press met the our team in the centre of the city. All the members of the team gave interviews about their part in the tour and explained the aims of the NowWeMOVE campaign and NowWeBik as a flagship event.
"As well as being a mean of transportation and alternative tourism, cycling is also an enjoyable way of making people more active in their daily lives. The main aim of NowWeBike event is to make people more aware of advantages of doing exercises in their daily lives in order to have a long and a happy life," Adnan Cangir said.
After the press release, the team had a cycling tour together with local cyclists of Marmaris in the city centre.
For more information about NowWeBike tour, the team and side events visit our website.