Even though Estonia already staged a Week Without Elevators event in the beginning of this year, many companies – including some of the largest in the country – embraced the NowWeMOVE campaign's No Elevators Day on 26 April. 
Maintaining healthy lifestyle in a workplace has become one of the trendiest keywords. Many organisations take part in friendly competitions to win awards for the "most active company" or "healthiest workplace". However, taking part in the No Elevators Day initiative was still a first-time event for many, even though people are generally aware of the health benefits that continuous stair-climbing brings.
On 26 April, some of the biggest companies in Estonia organised active stair-climbing events in their buildings. For example, Eesti Energia – the state-owned international energy company – encouraged its employees to take the stairs:
Whereas Eesti Energia proved that it's easier to burn calories rather than electricity, other companies, such as Fujitsu Estonia, used their inner power for competing in stair-running contests. Their employees took 13,440 steps together.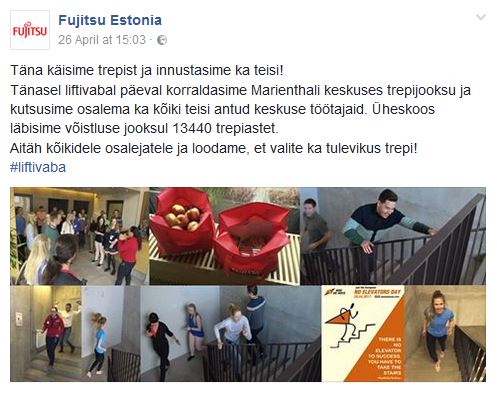 Most No Elevators Day activities took place in Tallinn, the capital of Estonia. Other participating companies and organisations were Foundation Innove (promotes general and vocational education), LHV Bank, Nordea Bank. In Tartu, various start-ups and tech companies, such as PlayTech and STACC also participated.
Elina Siimon, Innove's HR Manager reported: "SA Innove actively participated in the No Elevators Day. We weren't able to close the elevator in our main building, but there were signs next to the elevators that said not to use the elevators and walk instead. We also advertised the initiative in our intranet and newsletter."
In Estonia, part of the No Elevators Day success derived from Eesti Terviserajad (Estonian Health Trails), who shared the initiative in their social media channels and even organised a competition. People were asked to post photos of them taking the stairs throughout the day.
No Elevators Day in other Baltic countries
Although Tallinn was the most active of the three Baltic capitals, both Riga and Vilnius hosted their own No Elevators Day 2017 activities. In Latvia, the No Elevators Day was celebrated in Drogas, a company that values healthy lifestyle 365 days a year.
In Lithuania, the word about No Elevators Day was spread around in a couple of sport-related websites, but our Stair-Agents have yet to collect the info about local Stair Champions. The main facilitator for NED events was Association LKSKA Nemunas.
So the message from this year's No Elevators Day in the Baltic countries is "the more the merrier" when it comes to events promoting everyday physical activity. Existing events complement each other and provide opportunities for year-round activation.
Want to get involved in a NowWeMOVE campaign event? Visit nowwemove.com to find one that suits you – next on our calendar is the second edition of the European Fitness Day.