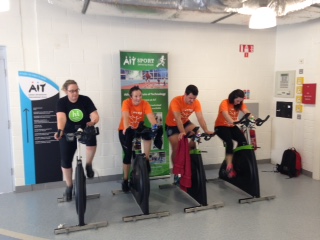 This year Ireland has organised something very special for the MOVE Week and promotion of physical activity around the country!
On Wednesday 23.09.15 Community Games, HSE and Athlone IT organised a spin cycling challenge and completed a total of 293km. The cycling tour consisted of multiple relay teams that included 6 members who were cycling for 30 minutes each.
Dr.Cate Hartigan, Head of Health Promotion and Improvement at the HSE said:
"It's fantastic to see our colleagues from the Athlone Primary Care Centre working together with HSE Community Games and Athlone Institute of Technology to raise awareness of MOVE Week, taking place from September 21st to 28th 2015. MOVEWeek has become the biggest annual week in Europe promoting the benefits of regular participation in sport and physical activity."
This initiative shows yet another great way how to stay active indoors and office environment and how to build team spirit! The other great suggestion and recommendation to stay active during the week included:
• Setting an alarm on your phone every 30 minutes to remind you to stand up from your desk and move, doing desk exercises: shoulder rolls, arm raises, leg squats and stretches
• Taking the stairs at work instead of the lift;
• Going for a short walk on your lunch break;
• Having a standing meeting instead of a seated meeting;
Now these are great tips for staying active at your work place!
Keep on MOVEing!