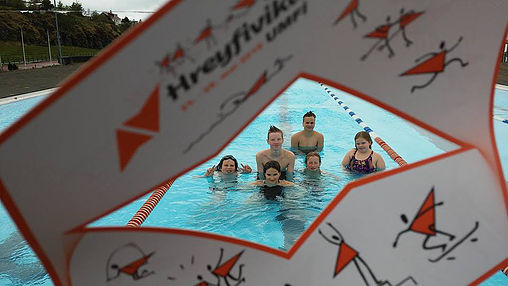 Who would believe that swimming is the most popular event in the coldest MOVE Week country? It's true. And what's more, the MOVE Week 2016 country with the smallest population has charged ahead on the event tally, registering the most events so far.
Last year citizens from two Icelandic municipalities competed to swim the greatest distance over one week. This year the event is even bigger, with 40 swimming pools across the country hosting Iceland's biggest swimming battle!
Iceland has the most MOVE Week events registered out of all of the European countries participating this year with 260 and counting. It's National Coordinator, UMFÍ, has also secured sponsorship for MOVE Week in Iceland from the Floridana fruit juice brand until 2020. It has also joined forces with the SidekickHealth app to promote physical activity.
The national swim-off has now begun and 39 municipalities are registered to participate, an increase of five municipalities from last year.
Rangárþing is the defending champion. Hornafirði has the youngest participant in the competition, who is only 4 years old, but swam 50m. And at 7am on a chilly Tuesday morning on 24 May all of the participants were invited to breakfast after their swim.
Part of this article has been translated from an original article on UMFÍ's website (Photo by UMFÍ). See the full story to find out the results of the Icelandic municipality swim-off so far
Find more MOVE Week events in Iceland
https://moveweek.eu/events/2016/iceland/