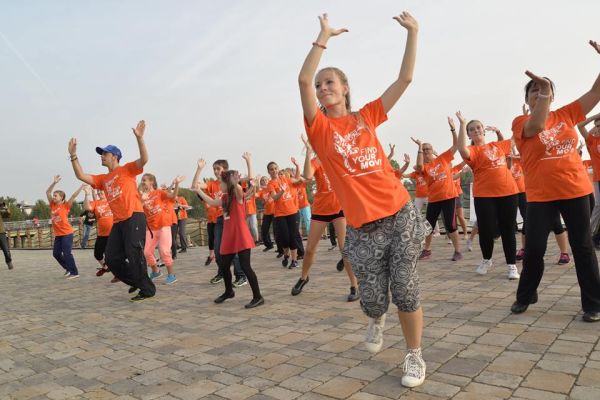 Dancing is a joy for Hungarian couple Éva Orosz-Szüllő and József Orosz.
Not only has it brought them international success as world Amercian style mambo champions, it is also their favourite way to get their local community moving and having fun. That's why they run a dance studio is called Joydance, and it's also why they jumped at the chance to organise a MOVE Week flash mob in Budapest.
"It was so good to be at the right place at the right time," they said after their successful flash mob on 20 September in a park called Kopaszi gát, which included 50 people from their dance studio, plus Hungarian MOVE Agents and others who were interested in joining in.
"We have a very good friend who wanted to do a MOVE Week flash mob. She didn't have a dance school so she couldn't organise as many people as we did. When she called us to help out we were very excited!"
Éva and József have been dance instructors for many years and specialise in teaching classical dance and zumba to all age groups. MOVE Week National Coordinator Réka Veress said that their expert touch combined with the Hungarian Leisure Sport Association's coordinating efforts gave MOVE Week in Hungary the exposure it deserves a week before the event.
"It was great to see all the smiling, curious faces watching the flash mob. The dance studio instructors and the staff at the Hungarian Leisure Sport Association did an excellent job in organising it, so there was nothing else to do, just dance, dance and share this experience with Europe. It was a great way to launch MOVE Week," Réka said.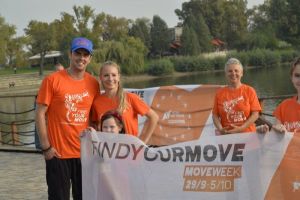 The pictures say it all, and to Éva and József the event couldn't have gone better. It also attracted many more supporters to the NowWeMOVE campaign in Hungary, particularly the dance instructors themselves:
"Everything was on our side for this event! The weather was wonderful, the place was very nice and the Hungarian organisers are really nice people too. We had conversations with the participants after the event and everybody felt fantastic! All of the kids and adults said they would come next time if they were given the opportunity. It's good to participate in campaigns that promote healthier lifestyles, because in these times we must pay attention to our body because we've got only one!"
See all of the photos and a video of the flash mob
Click here for all of the MOVE Week news and events in Hungary