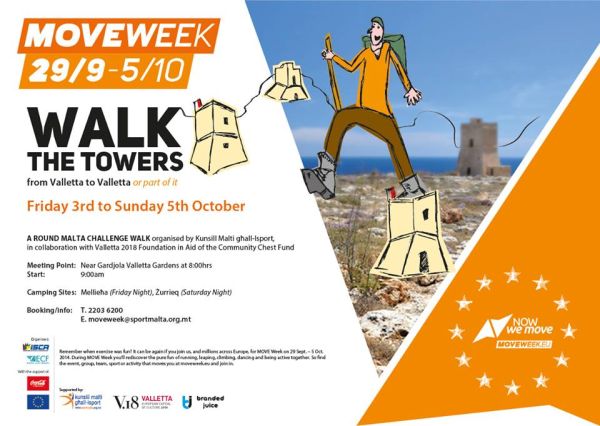 As the most built-up country in the EU and with 33% of its land covered with buildings or other artificial surfaces, Malta has a challenge to create active spaces that encourage its citizens to MOVE. And with 75% of its population claiming in the last Eurobarometer survey that they never take part in sport or physical activity, it is more important than ever to find ways to address this challenge.
Malta's MOVE Week National Coordinator Kunsill Malti Għall-Isport, in collaboration with Valletta 2018 Foundation in Aid of the Community Chest Fund, is doing just that by taking a creative approach to MOVE Week that uses some of its most famous buildings as 'stepping stones'.
From tomorrow until the last day of MOVE Week, on Sunday, the people of Malta will "Walk the Towers" along the Maltese coastline. The walk starts in Valletta, and the distance between the historical towers varies from 8.1-16.3 kilometres, with the total walk back to Valletta being 107.5 kilometres long.
Walk the Towers is a flagship MOVE Week event and one of 60 events taking place in Malta during MOVE Week.
The Valletta 2018 Foundation's Chairman Jason Micallef said he was happy to be part of organising the Walk the Towers event and other events in Malta to show people in Malta how many opportunities they have to be physically active.
"The Foundation sees MOVE Week as a means of participation from the Community and is therefore collaborating on projects including physical activity, dance, competitive games in various areas of Valletta as well as other towns and villages," he says.
Find out about more events taking place in Malta here