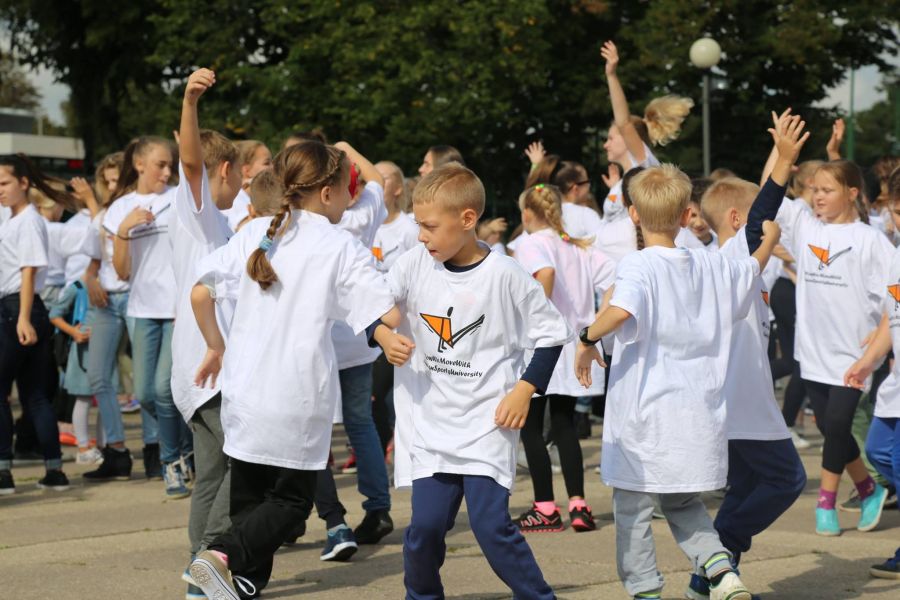 The Lithuanian Sports University (LSU), a member of Health Promoting Universities Network, made Saturday 10 September a FlashMOVE day on its campus, adding a huge 500 participants to Europe's biggest flash mob event promoting physical activity and the 2016 European Week of Sport.
School and university students, people from a local disability centre, lecturers and other colleagues from LSU, as well as teachers from local schools moved together to Maltese singer Malcolm Pisani's FlashMOVE theme tune ALE' O. The idea was to show that everybody can dance and is free to create their own moves.
To make a bigger impact, the FlashMOVE was organised at a place which is very special for Lithuania and its sports history – right between the central building of Lithuanian Sports University and the monument of the Lithuanian national heroes. One of these heroes, Steponas Darius, is called "the Father of Lithuanian sports", as he was an active promoter of various disciplines.
The coach of the dancing group "ChilliDance" and Kaunas' "Zalgiris" cheerleader – Milda Treigienė – created a very friendly, relaxed atmosphere and persuaded people just to dance from their heart like no one else is watching them.
Goda Mankute, a MOVE Agent from Lithuania, says the support the university gained from its local authorities and FlashMOVE coordinator, ISCA, was invaluable: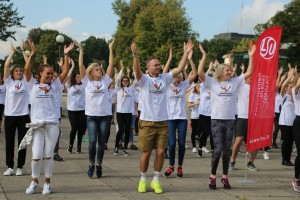 "Using different sport elements in the choreography, we wanted to spread the idea 'Find Your MOVE'. We are glad to cooperate with the International Sports and Culture Association (ISCA) and to contribute to their NowWeMOVE campaign, because our goal is the same – a physically active society. We greatly appreciate the financial support from the Ministry of Education and Science of the Republic of Lithuania. Without it we would not manage to form a group of 500 people in white t-shirts".
Watch the Lithuanian Sport  FlashMOVE video below