By Goda Mankutė, MOVE Agent from Lithuanian Sport University
Lithuanian Sports University (LSU) held an event called "Move Together with LSU'14" for the second year in a row.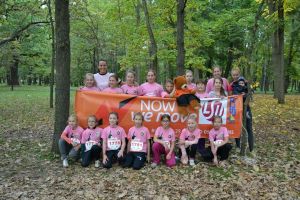 We organised a running contest, an orienteering contest and a volleyball 3×3 tournament. During this event we tried to spread the information that moving is fun and moving together is even more fun. We were proud to welcome 600 participants, supported by 30 volunteers, and we awarded all winners of the contests with prizes (cups, medals, t-shirts and juice).
During MOVE Week our University also organised some activities in the swimming pool and taught children how to rescue people if they are in trouble.
Furthermore, our students gave exceptional attention to seniors. They taught them how to use outdoor fitness equipment in a proper way and did sport together with them. In Lithuania October is the month of the seniors so we are planning to continue this great program, which we started during MOVE Week, all month long.