This year one of Europe's oldest, most populated and most visited cities provides a fitting backdrop for the MOVE Congress 2014 and its theme Open City – Active City.
Join us in the Italian capital, Rome, fro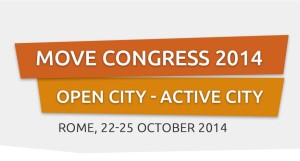 m 22 to 25 October 2014 and discover how open and active cities are built. Learn from esteemed experts and ISCA's wide network of organisations and individuals whose common aim is to encourage their communities to become more physically active.
The MOVE Congress 2014 is set to gather 300 stakeholders in sport and physical activity, including NGOs, local sports clubs, the sport and fitness industry, the health sector, government bodies and municipalities, corporate sector representatives, communications advisors, schools and higher education. Use your time at the MOVE Congress 2014 to imagine how you can use partners like these, combined with what your city has to offer, to create your own open and active city.
Everyone can be part of the discussion, debate and exchange of ideas about how cities (both big and small) can become more open and active. Explore the following themes together with the experts in your field:
Urban planning – Cities without barriers
Healthy lifestyles, active cities and active schools
Partnership and cross-sector cooperation
The MOVE Congress 2014 is being organised by ISCA and UISP (Italian Sport for All Association). It is supported by Roma Capitale and Ragion Lazio and will be held under the patronage of the Italian Presidency of the Council of the European Union.
Check out the MOVE Congress 2014 preliminary programme and register today!