Today, it is unimaginable to envision a high building without an elevator. Climbing up to the umpteenth floor without one is considered an extreme exercise, and there are only a few stair enthusiasts who would be up for that kind of challenge.
The downside is that having elevators and escalators in most modern buildings has made us lazier than ever. People tend to prefer the elevator even if it would be more efficient to climb the stairs – and even though some studies1 have shown that taking the stairs doesn't only result in higher level of fitness, but could also save us some time.
Our daily routines have changed so much over the years that it's getting harder to squeeze in your daily dose of physical activity. So it's time to go back to basics and find easy ways to step up your game. One way is to rediscover the stairs.
Second Renaissance
Often unnoticed as urban monuments, staircases are used to frame building entrances and public spaces since the Renaissance. Since then, their function has been to create a dramatic processional experience. Integrating staircases into city environments changed our perspectives by transforming the city landscape from having two-point perspective to being three-dimensional.2 
Nowadays, we could not imagine a city without at least some levels. Many European cities are even claimed to be built on seven hills (e.g. Rome, Athens, Budapest, Plovdiv). It is unusual to strive for flat-surfaced, one-dimensional urban environments.
For an urban explorer, the best way to get a better view of your surroundings is to climb higher. Making it easier for you to take the first step, we have mapped stair-friendly cities and tall buildings that are worth discovering. So next time you plan your trip abroad, consider packing your most comfortable shoes and exploring the city like a Stair Champion.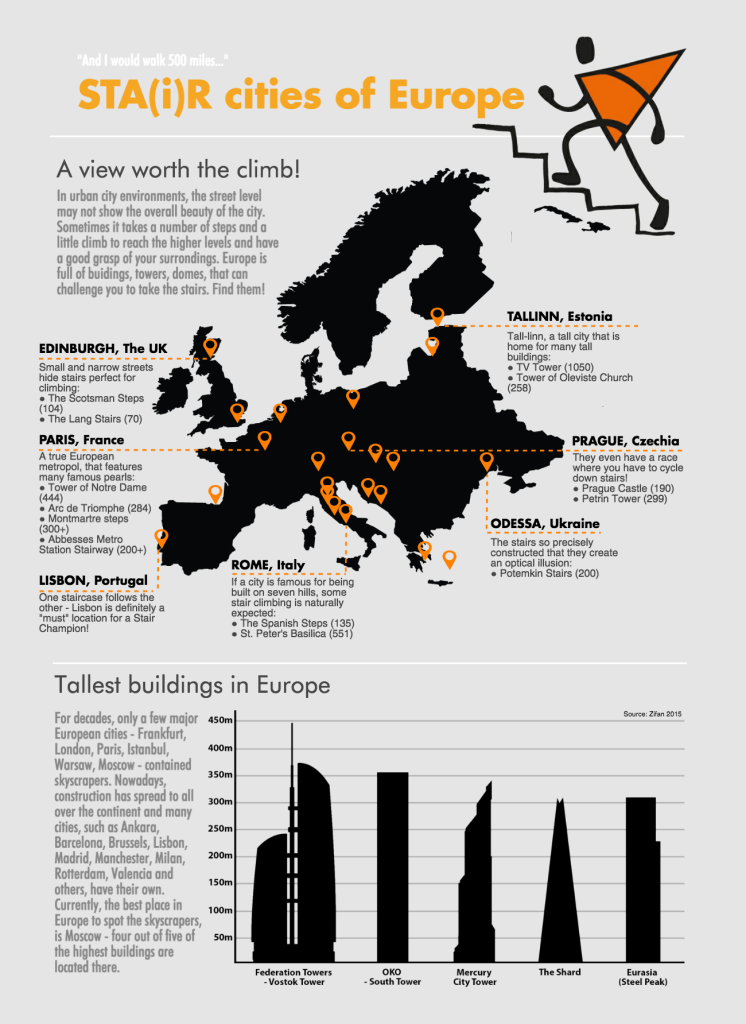 ---
* Vaclav Havel
1 – Shah, S., O'Byrne, M., Wilson, M., & Wilson, T. (2011). Elevators or stairs? CMAJ : Canadian Medical Association Journal, 183(18), E1353–E1355. https://doi.org/10.1503/cmaj.110961
2- Cormier, B. (2010). Staircase urbanism. Popupcity. https://popupcity.net/staircase-urbanism/