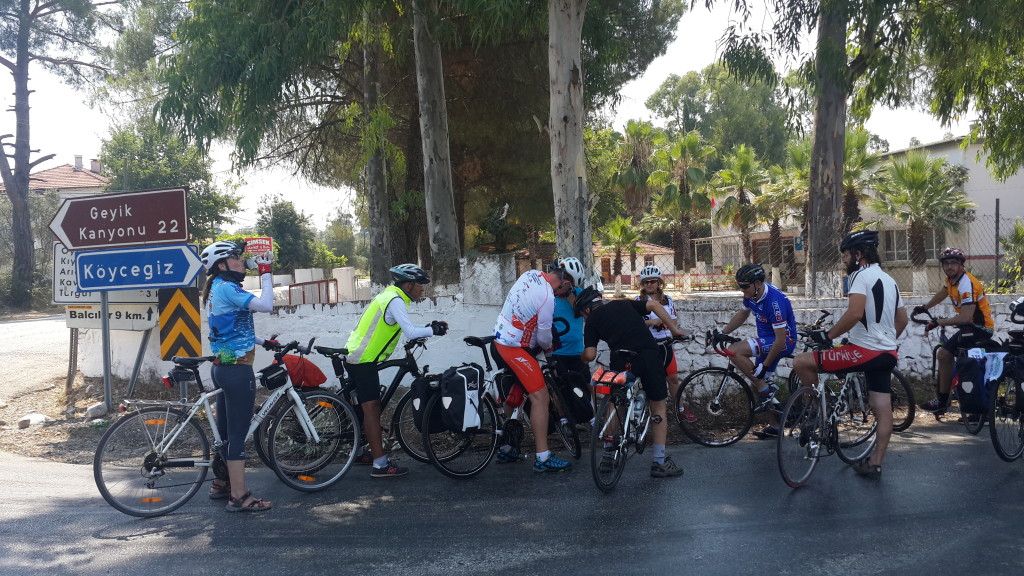 On 26 July there were three destinations on our cycling plan – Koycegiz, Dalyan and Ortaca. The route was quite challenging because the weather was hot and cycling under the sun was not easy but with several short breaks and nice chats with local cyclists the team made it after all.
In the morning at 8:30 NowWeBike team and cyclists from Mugla Cycling Associaton met at Ardore Cafe to cycle for Koycegiz located 51 km away from the centre of Mugla. Before entering the city, some cyclists from Koycegiz Cycling Association welcomed us and offered Turkish tea in Cicekli which is a very nice village in Ula, the only city in which the number of bikes are higher than the number of people living there. People in Ula use bicycles primarily for transportation and as we could have seen they really love cycling. That is so inspiring for other cities in Turkey!
Koycegiz Municipality, Ortaca City Council and Local Cycling Associations in Koycegiz and Ortaca organized a very nice programme and lunch for NowWeBike Team near the lake. The team had also a chance to meet the governor of Koycegiz, Gurkan Demirkale the district director of national education, Fazil Karabag and the mayor of Koycegiz, Kamil Ceylan. After the programme in Koycegiz, the team and local cyclists cycled to Dalyan (22km away from Koycegiz) which is famous for oldest settlement, Kaunos Ancient City. From the road one can see King Rock Cemetery from the 4th Century BC as the symbol of the city carved into the hill. One can also visit Byzantine Church and Roman Bath located nearby.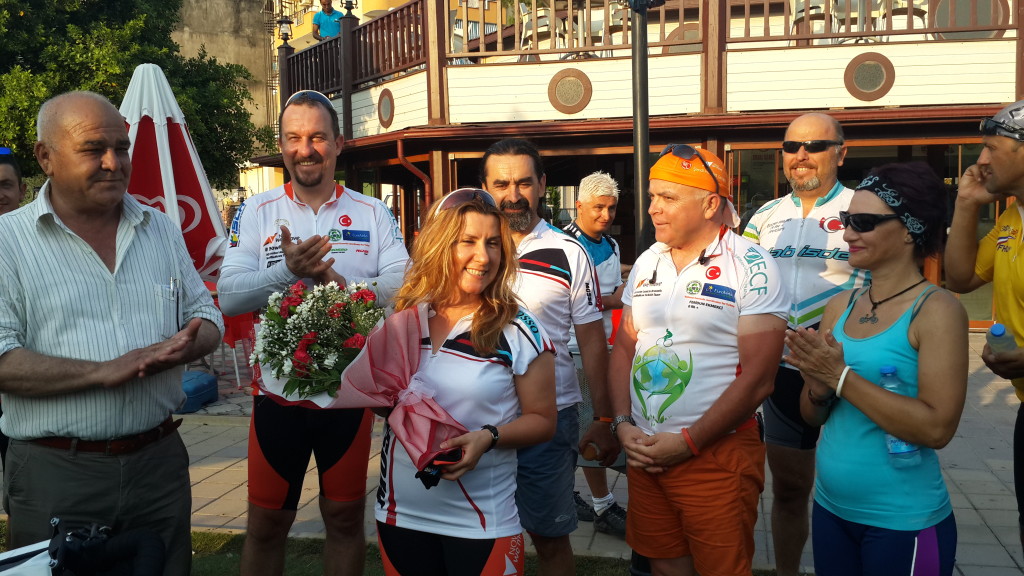 The team and the local cyclists arrived in Ortaca at 18:30 and the mayor, Hasan Karacelik welcomed the team and gave us a bunch of flowers wishing us a safe cycling on our long tour to Brussels. The mayor also said that he is proud of supporting the NowWeBike team and NowWeMOVE campaign since it is very important campaign for healthy active life for all.
By Emel Çalkam, NowWeBike blogger
In upcoming weeks Emel Çalkam, NowWeBike blogger from Turkey will be the one sharing experiences from the NowWeBike tour. NowWeBike is part of NowWeMOVE campaign and will be taking place from 24 July to 9 September 2015. During those 7 weeks the team will cross 12 borders and cycle 2,700 km across Europe. For more information about NowWeBike tour, the team and side events visit our website.