NED stands for No Elevators Day. Our mascot for the day is also called NED, but No Elevators Day is about real people not just a cartoon. On this year's No Elevators Day on 26 April, the ISCA team joined the Danish Health Authority to activate their employees and encourage them to take the stairs. These are the "Humans of NED".
The six-storey building houses two organisations: the Danish Patient Safety Authority (Styrelsen for Patientsikkerhed) and the Danish Health Authority (Sundhedsstyrelsen). The building has two elevators that can bring people from the reception area from any of the floors, especially to the top floor where most of the meetings with external guests take place. In other words: they have a building that is made for a No Elevators Day.
Sealing the elevators is a simple but visible way of catching people's attention. A visible sign or a poster might be enough to activate potential stair champions and stair warriors – every employee can choose to become one. Speaking with several people around the building, they all agreed that working in an office can easily turn someone from being an active into a passive person. But reminding them to take the stairs, engage in simple workplace exercise routines or stand behind their desk are small but efficient ways to turn them back around. Many noted that they are missing active "pioneers" – a person or a duo who would motivate others just by being active themselves.

Customise your office
A lot can also be done by workplace design. Project leader Tue Kristensen explains: "It's also a good idea to have the printer away from your desk so you have to walk up and go to it. And then the coffee station! Simple things: taking the stairs, standing up, and actually also taking the bicycle to work instead of other transport means. I think that's very important to say that not only at the workplace but think of the transportation, too, to stay active."
ISCA: Do you know approximately how many people in this building cycle to work?
Tue: No, but I think there are not that many people. But we participate in the biking to work initiative. In Danish it's called "Vi cykler til arbejde" and we had a team in our organisation.
Mathis: You know, these are actually very good questions. We should put them in the next questionnaire, i.e. how much are you moving? It has such an obvious effect to how you are feeling. You can see that the places where you don't move a lot are also the places that are essentially just worse working environments.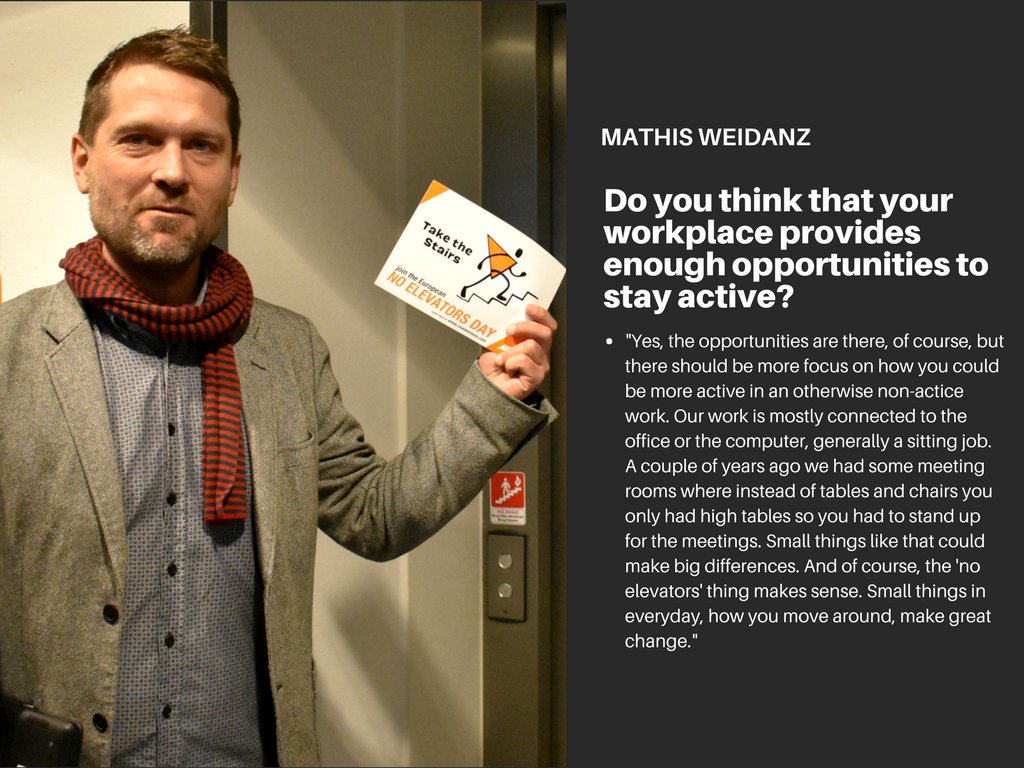 ISCA: How could the organisation motivate their employees to become more active, besides the vertical moving tables, which is a requirement in Denmark?
Tue: Actually, to make it possible to ride the bike to meetings that take place outside our organisation. We have bikes in the basement so you can use them. Our printers are not just beside our desks. You have to walk to get your printed material, and we have our coffee machine placed a bit further away – it's not so close by. Our canteen – we have to walk to another building even though people sometimes just take a plate and come back to the office.
It's also possible to participate in different kinds of events outside of workplace. We have the DHL Run, but there's also ECO-Walkathons and other events.
ISCA: Does your organisation support these kind of activities? Do you go there together? 
Tue: No, we are not participating with the whole organisation, but we have a fitness room and it's actually quite good. However, there are not so many people using it.
We also have a changing room in the cellar so if you bike from a far distance to work you can change from sportier outfit to an office one.
And of course, smaller events like No Elevators Day that doesn't require much from people to participate. That's how to do it. Provide the means.
Now that I think of it: walk and talk meetings! People should me more aware of it and the organisation should say that it's ok to take a little walk for half an hour and talk with each other. We have the peer near and we have nice areas close by to walk around, i.e. the Amagerfeld.
A couple of years ago, before the cuts, we had a policy where you could log off from your work half an hour and take a run. After the public sector cut-down, unfortunately we don't have it anymore, it was just kind of an 'excel exercise'.
The best time to exercise is right before lunch!
Some have already taken the initiative: Every employee in the Danish Health Authority knows that three times a week, just before lunch, is time for a little exercise. They are using their free office space and simple, existing means to engage in physical activity. Many of these exercises can be done with no additional tools.


NED Superstars
From the building on Islands Brygge, the ISCA team also found two active workplace ambassadors, who stay active not only in the office but during the whole day. Meet Pauline and Ivar: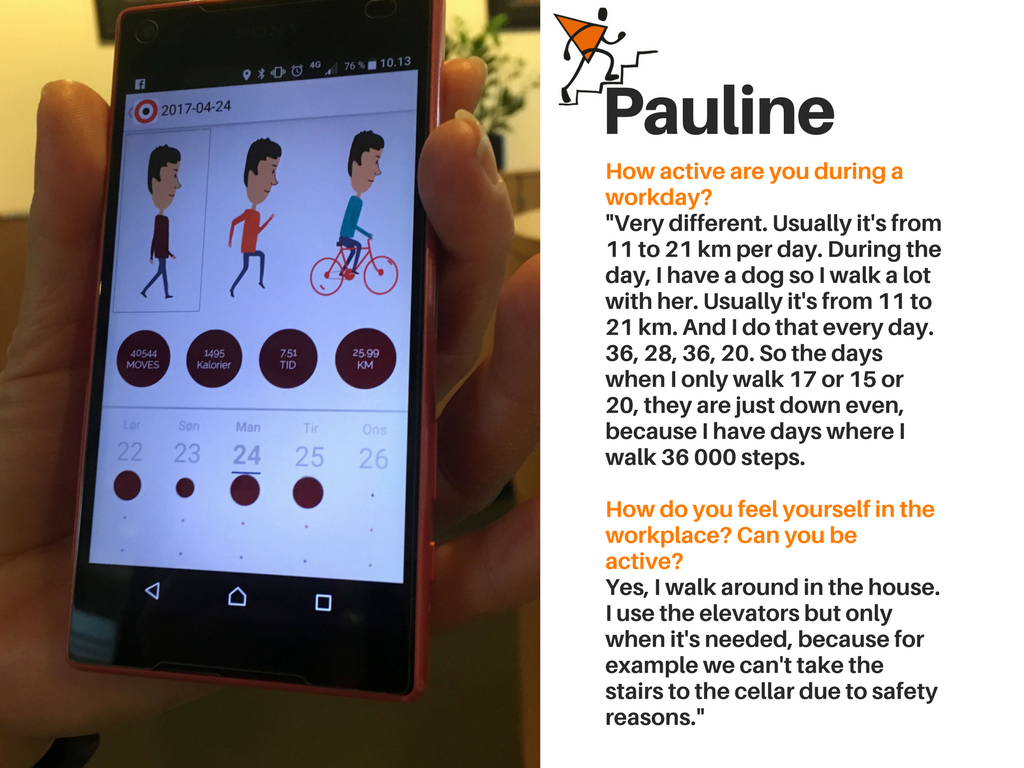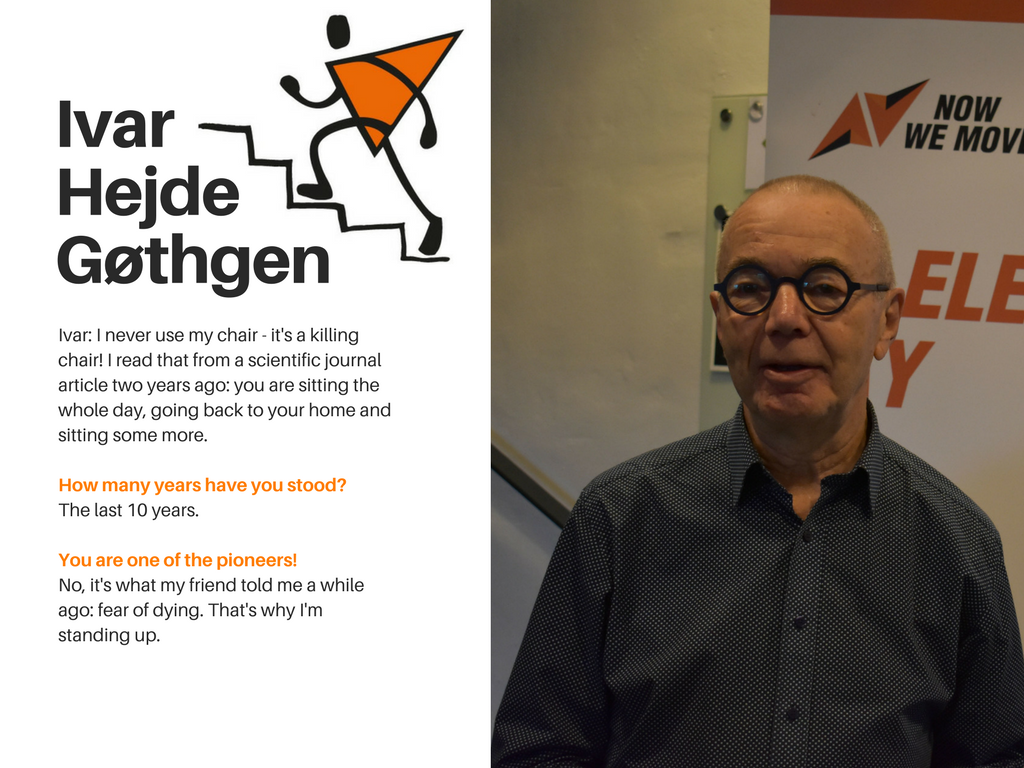 Don't miss the next edition of No Elevators Day in 2018. Follow us on Twitter and Facebook for the next call for No Elevators Day MOVE Agents and in the meantime, keep climbing!