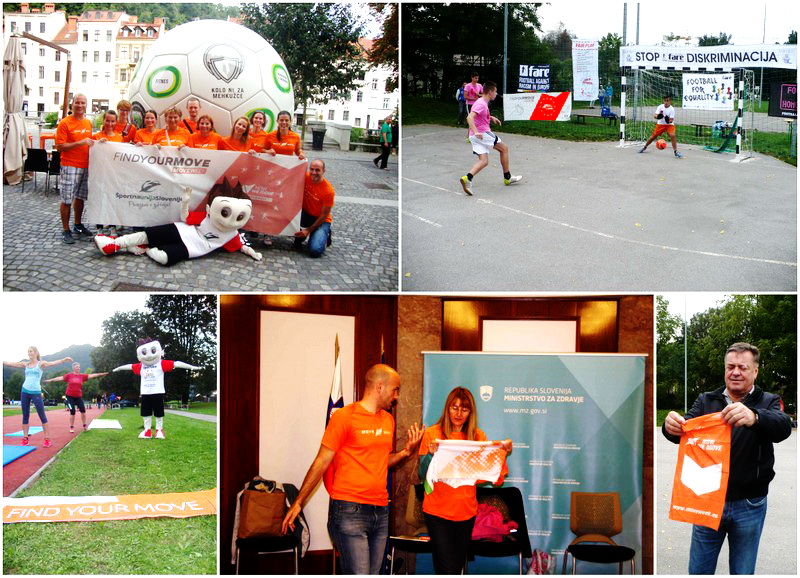 After seven FlashMOVE events (including one in the Slovenian pavilion in EXPO), MOVE Week in Slovenia began. Over 100 events varying in size, scope, discipline and target group, MOVEd the country in 2015. The campaign has been successfully integrated in "Slovenia on the Move" – the main national portal providing information about all recreational sport and physical activity programs.
The main pillars of the Slovenian MOVE Week this year were: physical activity in workplaces and youth and human rights education.
As a National Coordinator, the Sports Union of Slovenia (SUS) promoted the project "Health-Friendly Company" on RTV Slovenia (16:00min) and also at the Ministry of Health (formal partner of MOVE Week together with the Ministry of Education, Science and Sport, the Public National Health Insurance Institute and the Agency for Development SPIRIT). In this domain, the SUS is also cooperating with the European Federation for Company Sport in the frame of the EwoS #BeActive campaign.
Youth and families are the key protagonists of  "Wind in your hair" – a national campaign of local festivals targeting youth: everyone can try out different disciplines and find the one(s) they prefer. The mascot of the campaign – Sportko – also participated in MOVE Week: he danced the FlashMOVE at the House of Sport of Ljubljana and worked out in Skofja Loka. On Sunday, MOVE Week met Football Against Racism Europe in the tournament "Plata – football against discrimiation", kicked off by the mayor of Ljubljana Zoran Janković.
As a "green, active and healthy" country, as it's presented in EXPO, Slovenia will keep on MOVING and invites you to join in!

Find your MOVE at: www.nowwemove.com and www.moveweek.eu