For many kids superheroes are those who can fly, have exceptional powers and can save a whole country with only a strong fist and the help of superhero friend. Batman, Superman, Spiderman, you name it – they have inspired generations of kids to become better and stronger like them.
Hungary has a square dedicated to its heroes – national leaders and leaders of the Magyar tribe who shaped their country and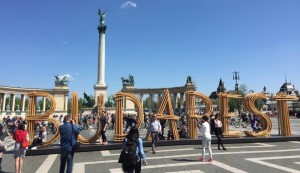 inspired their people to keep their identity strong and overcome challenges to their freedom. It is called Heroes' Square and is located in the City of Budapest, and it will be the scenery for a modern display of heroism.
Yes, Hungary also has today´s heroes – people who are doing great things for their community. In the NowWeMOVE campaign we call them MOVE Agents and they can be seen in action during the 2016 European FlashMOVE.
Our Hungarian MOVE Agent and National Coordinator, the Hungarian School Sport Federation, used this iconic landmark of Budapest last year to showcase the NowWeMOVE panna tour and they're now to host the biggest flash mob in Europe. On September 10, 11:00 C.E.T children from different schools and neighborhoods will join a simultaneous dance show, performing the choreography that flash mobs around Europe will be dancing to. As a touristic spot, the expectations to have passers-by joining the party are high and the underlying message of moving and having fun will be spread to many nations as possible.
MOVE Agents may not be able to fly or carry a car above their heads, but their responsibility in their communities is just as important as their fictional counterparts. To motivate generations of kids (and adults) to be physically active and enjoy the benefits of being active as a FUNdamental requirement of becoming a "superhero".
So, it is movement your super power? Are you willing to become a MOVE Agent superhero? Register your FlashMOVE event here and make your community healthier and happier.