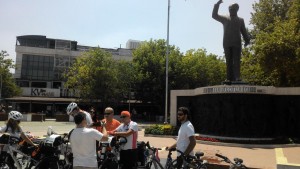 After a short stop in Yalova, where we were welcomed by local cyclist Hasan Turakine and his family, who took us on a cycling tour by the seaside, we travelled to Istanbul by ferry. The Marmara Sea made us feel fresh and ready for the Istanbul NowWeBike tour.
When we arrived at Pendik Station, members of Pedalsorler, an active cyclist association in Istanbul, were waiting for us. Gulden, my cyclist friend, was also there, which was a nice surprise for me. After chatting and resting for a while, we cycled together passing heavy traffic towards Kalamis Marina where another press conference was waiting for us.
Some of the cyclists met us at the marina and served us fruit salad and fresh fruit drinks that were so delicious. After that a lady invited us to do yoga together. Esra, my colleague and her 8-year-old daughter, Işil, were there along with Istanbul Bike shop owners Seçil and Alex, Feridun's brother and his family. Seeing friends and family made all of our team members feel so happy and motivated.
NowWeBike takes to the stage
Bülent Çakirer from Kadikoy Municipality, who organised the event in Istanbul, invited all the NowWeBike team to the stage, along with the NowWeBike banner. Feridun Ekmekci explained the main aims of MOVE Week and we talked about our roles in the cross-border cycling event. After a wonderful dinner with the cyclists, we ended the day!
By Emel Calkam
Stay tuned for more stories from the cross-border cycling tour. More information about NowWeBike and its events can be found on the website: https://nowwebike.nowwemove.com/