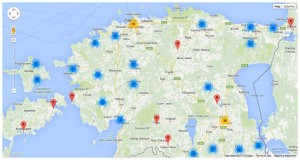 At the beginning of September, Estonia leapt to second place on the MOVE Week event tally with over 50 events. With two weeks to go, it is still one of the top-ranked countries with 137 events.
With just over 1.3 million inhabitants, Estonia is a small nation making a big impact on MOVE Week 2014 with events scattered all around the country. So what does Estonia's National Coordinator, Tiina Kiislar, put its successful preparations down to?
"I think it is all about a number of things coming together at the right time: good communication through right communication channels plus the work we have done contacting schools," she says.
But it is not only schools that have embraced MOVE Week in Estonia. Established events such as the Tartu City Marathon, (with 3000 participants expected), Pärnumaa Biketour (approx. 500 participants) and one of the country's biggest ROGAIN events (including visitors from Finland and Latvia) are linking to MOVE Week as they coincide with the European week of sport and physical activity. Estonia's Elderly People's Festival will feature a physical activity corner and join South Lanarkshire Leisure and Culture's live stream and Scottish MOVE Minute at its Active Ageing Conference.
Government and local authorities are also getting on board, with the Estonian Ministry of Finance organisng a volleyball tournament for its staff and Estonia's sport capital, Valga, organsing a charity cycling event where participants will cross the border to Latvia and attend a market in the region.
Kiislar has also been successful in securing partnerships with Coca-Cola and Oriflame's wellness department. As part of its support, Coca- Cola Estonia is organising a sports day for its staff members a week before MOVE Week.
Well done Estonia!
Find out about all the events registered in Estonia here