The #FlashMOVE is just around the corner and Europe is not just waiting for the clock to signal the starting time: 11am CET. Many of our MOVE Agents have taken the time to practice their moves and share with us and their communities their FlashMOVE preparations.
Those who have taken up the #FlashMOVE dance-off challenge have sent us their rehearsal videos all the way from Croatia,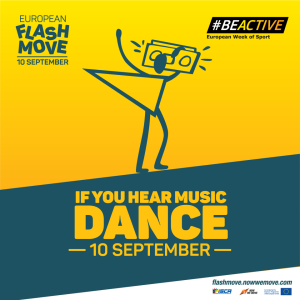 Bulgaria, Greece, Malta, the UK and Slovenia. These fun, spontaneous and active videos have been used as a way to ignite even more the active participation in their FlashMOVE events.
The Institute of Public health, County of Međimurje, in Croatia, was the first to take the initiative and share their rehearsal. If this is the level of their dance training, we can't even imagine how great the FlashMOVE is going to look like.
https://www.youtube.com/watch?v=rSOi8v0jkRs&feature=youtu.be
Like an expanding wave, Slovenia was motivated to join in too, and even though the light was fading away and the day was almost over, they found the energy to keep on dancing. Great moves from the SD Partizan.
https://www.youtube.com/watch?v=iTQeh52LMjE&feature=youtu.be
Later, it was time for the Greeks. Drama Moves gave us full access to their rehearsal, and we can assure that the kids and grown-ups will have a blast on Saturday.
https://www.youtube.com/watch?v=GlE6RdcL3Hw
Next in line were our friends from Malta, who at the Kirkop Sports Complex showed to everyone how well they are following the functional movements of the FlashMOVE.
https://www.facebook.com/missroxanne.gauci/videos/622069624633334/
Bulgaria, surprise us with a great sneak-peak of what they are preparing for the opening of the European Week of Sport. We will be looking after you Green Hat Association.
https://www.facebook.com/katya.sugareva/videos/10207307936441478/
The United Kingdom also took the FlashMOVE as serious business and took the children for a rehearsing session. U Do It – Dance Foundation knows how to motivate the little ones.
https://www.facebook.com/udoitdancefoundation/videos/495852573948640/
As a bonus track, our volunteers working at ISCA office, improvised a FlashMOVE rehearsal with all European Volunteer Service participants in Denmark.
You are still in time to register your own flash mob or to participate as a dancer in any FlashMOVE event. Check our website, choose your country, and all registrations close to you will appear. Reserve your Saturday 10 September morning for a fun and a healthy activity with your community.
#BeActive #FindYourMOVE