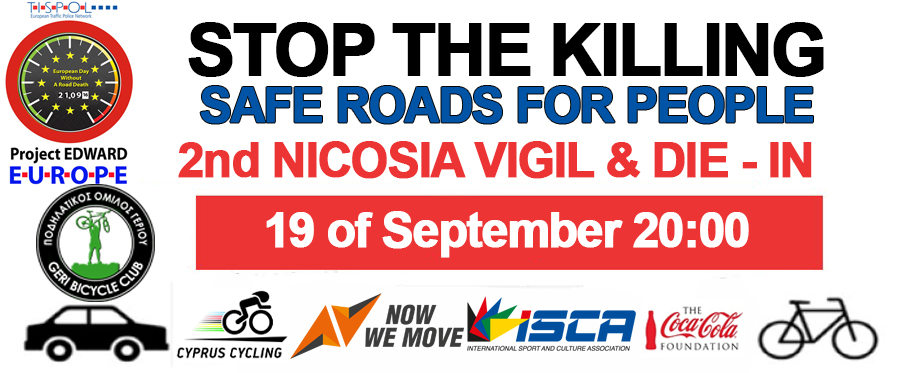 Cyprus is celebrating two MOVE months in September and October, preparing for Europe's most active day (European Fitness Day) and European School Sport Day next week, and two cycling events.
For European Fitness Day on 27 September two parts of Nicosia will offer free indoor cycling sessions at Equus gym & IC7.
"We will give people the chance to try cycling by offer them free indoor cycling courses," says Cyprus Cycling Federation Secretary General Stavros Georgiou. "We have already agreed with 2 indoor cycling centres and we hope to agree with even more centres before the day."
For European School Sport Day on 29 September local schools will ask their students to bring their bikes to school so they can learn about bike safety and practice riding their bikes.
On 19 and 21 September, the Nicosia Vigil & Die-In in Nicosia will raise awareness about bike safety and for motorists to be aware of cyclists. The event has promoted the slogan SHARE THE ROAD on Facebook and in radio interviews, and was prompted by the deaths of a 33-year-old and 14-year-old cyclist in early September. Huge banners were prepared for the day displaying message and 300 stickers for bike safety will also be handed out in Nicosia.
"The organisers expect more than 100 people on Tuesday night," Stavros says.
Cyprus Cycling Week is also planned for 30 October-5 November where the Cyprus Cycling Federation will promote its bike safety campaign with video clips and images on social media. It will also hold a press conference to talk about road safety and to present their collaboration with the International Sport and Culture Association (ISCA).
There is less only a week to go until European Fitness Day and European School Sport Day – have you registered an event yet?