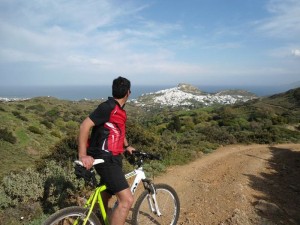 The events for MOVE Week 2014 are now starting to pop up country by country, and Greece is ready to get MOVING with 16 events registered already. Last year, Greece made a strong contribution to MOVE Week, and for this edition, a new community situated in one of the country's most idyllic settings will find their move, on the island of Skyros. The island is well known for its beautiful forestry landscapes, horses and carnival celebrations, and cycling will be the main move making the island active during MOVE Week, from 29 September to 5 October.
Cycling enthusiasts on Skyros have taken up the initiative, bringing Skyros Municipality, the MASTER BIKE STORE from Evia Island, and local companies Hotel Nefeli and NPInsurance together to prepare the island for MOVE Week 2014. They also took an approach to promoting their MOVE Week activities that was guaranteed to appeal to their target group. MASTER BIKE STORE, supported by their MOVE Week partners, held a mobile workshop on the neighbouring island of Evia, where the local bicycle repair shop took part in repairing the locals' bikes. What better way to spread the word and help the MOVE week participants get ready for the event!
It just takes a little bit of thought and inspiration to come up with an event that will make everyone in your community get up from their couch, move, enjoy nature and good weather to the full – and at the same time contribute to moving Europe!
Read the full article here (automatically translated into English from the nowwemovegreece website)
See more photos here