Malta ranked in the top positions – this should be a positive statement, but unfortunately knowing that it refers to obesity[1] and physical inactivity it is not. This is alarming to many stakeholders in the country.  Maltese people do not exercise regularly to various reasons which are resulting in an increase to the obesity problem. Is this over dramatic? – No, not really! The people are at risk thus the country is at risk.
Action to overcome this crisis is a must. And here is where my idea originated.  Being a sportsperson myself, a physical education teacher, head coach with SportMalta and having the knowledge of athletics, my project focused on an easy-to-execute, cheap (you can walk/ jog anywhere) and fun (train as a team) for all participants. Keeping all this in mind, I came up with the idea of Positive Steps. In its raw state, the project was focusing on meeting as a group and jog together but after I discussed it with Robert Portelli (head of programme at SportMalta) the project evolved.
Promenade Walks
Thanks to this project, I was entrusted by SportMalta to coordinate the European Week of Sports Promenade Walks under the guidance of the national coordinator. Three walks were held in order to reach the public as much as possible:
Bugibba –north of Malta (around 40 participants)
Sliema – centre of Malta (around 55 participants)
Marsascala – south of Malta (around 80 participants)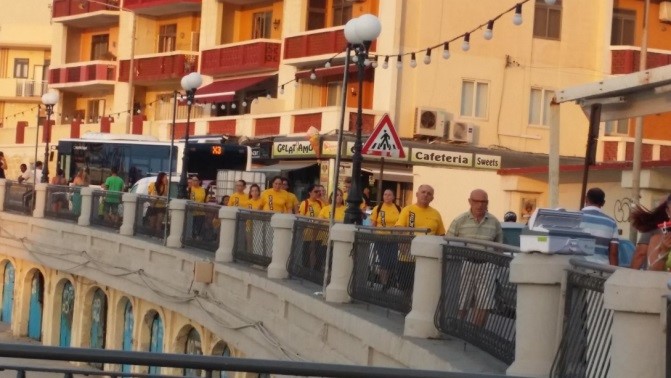 My task was to prepare the poster and application, alias with the different local councils regarding time, permits, electricity points etc., promote and market the event to different entities, find workers for the job and any other tasks which was needed for a successful event.
In summary, all three walks had two different meeting points, which were both a start and a finish. The participants had 3 hour time frame to come anytime and walk from one point to another. For all finishers, a freebie was given. It was either a t-shirt, safety jacket or running pouch. Promotion of #OnTheMove and Positive Steps programme were also part of the event.
In the postmortem of the promenade walks it was decided that future walks will be held, however there will be only one start and one finish and participants will not be given a 3hr time frame but it will have a starting time so applicants will walk as a group.
Learn more about Charlene and how the YOTM helped her in the development of her project in here
[1] https://ec.europa.eu/eurostat/statistics-explained/index.php/Overweight_and_obesity_-_BMI_statistics
https://education.gov.mt/en/resources/News/Documents/Healthy%20Eating%20and%20Physical%20Activity%20Policy.pdf
https://ec.europa.eu/sport/library/factsheets/malta-factsheet_en.pdf