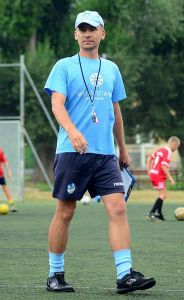 Interview with Tadeusz Ciapa, coordinator of Błękitny Tydzień Ruchu [Blue Move Week] in Wejherowo, awarded the best event of the Polish MOVE Week 2014 edition.
Profile of the Blue Move Week event in Poland:
The aim of the Blue Move Week in Wejherowo was to promote physical activity among the widest possible group of the city's residents. The action took place in Wejherowo and out of town and was divided into 11 separate events dedicated to specific audiences.
Zaczarowany Świat Footbolu [Enchanted World of Football], an event for pre-school children, kicked off the MOVE Week. It was followed by events promoting soccer, running, floor ball, gymnastics and active tourism, as well as information about how important movement in human life is to children, adolescents, adults and retirees.
Local community circles united and got engaged in organising the activities. Marcin Chabowski, Polish representative in long-distance running, attended as the star guest of MOVE Week in Wejherowo. Blue Move Week was broadcast on local television station TTM, as well as on the internet. It was also supported by the municipal council of Wejherowo.
Number of participants: 1,200 people
Number of volunteers: 50 people
Number of viewers: 400 people
Your Blue Move Week attracted around 1,200 people, including children, youth, adults and the elderly. How did you manage to involve such a large and diverse group of participants in your events?
It was the cooperation of our partner associations, which play a big part in popularising everyday physical activity in our community, that did the trick. Everybody liked the idea of MOVE Week and eagerly joined in.
Which activities in the Blue Move Week were most popular?
The football tournaments in particular. Training sessions including parents and children, as well as outdoor events like hiking, cycling and zumba, also turned out to be splendid ideas. On the whole, each event that took place during MOVE Week in Wejherowo was of great importance and we took them all very seriously.
What's the origin of Postaw serce na nogi [Put your heart afoot], an event in which so many local youngsters joined?
The project started in 2011 and aimed to make physical activity popular among young students of Gimnazjum (High School) #1 in Wejherowo. It has been running ever since and we decided it was ideal for MOVE Week.
What made you particularly pleased as a MOVE Week coordinator?
I'm most satisfied with the fact many of the MOVE Week events may become permanent elements of the sports calendar of Wejherowo.
Your first prize was a trip to the MOVE Congress in Rome last October. What impression did this event make on you?
I will remember meeting people from all over the world who deal with sport and physical activity in their countries. I was surprised to find out that so many people in Europe engage in the promotion of such mundane activities as everyday walking. I hope our instincts will soon kick in to the extent that we won't need to promote it in Poland anymore. Nevertheless, I myself have recently taken up the promotion of hiking.
Rome's monuments are certainly breathtaking and the Congress organisers were true professionals, kind and helpful people. I liked most of the ideas brought forward at the Congress.