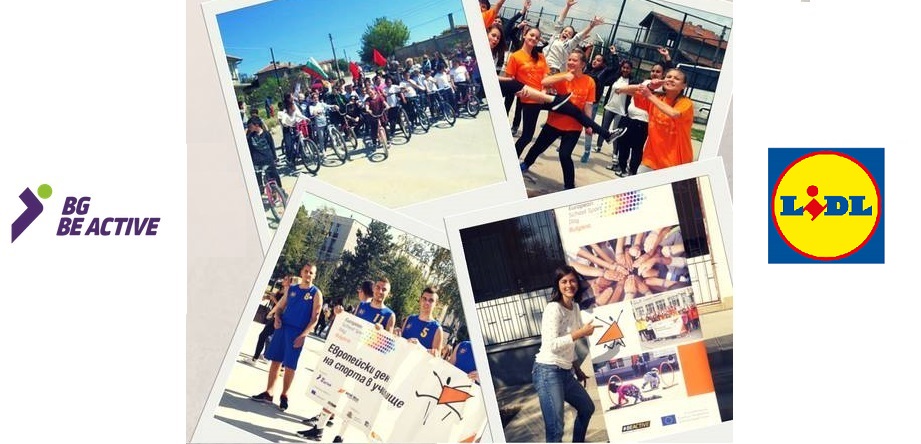 By Bilyana Mileva, NowWeMOVE National Coordinator for Bulgaria. 
European School Sport Day is inspiring schools in Bulgaria to be creative and to find new ways to make students more physically active. Sharing and promoting the great results and best practices from previous years, BG Be Active in Bulgaria has started a new partnership at a national level with Lidl Bulgaria for the implementation of European School Sport Day in Bulgaria on 29 September 2017 and for their initiative "Lidl – for Your Child".
European School Sport Day in Bulgaria is also being supported by the Ministry of Education, Ministry of Youth and Sport, Ministry of Health and municipalities and regional administrations all over the country. We expect to have again more than 300 schools participating in the event from all over the country and to have more good examples and continuation of last year's best practices.
And here are some of the awarded practices:
"Hristo Gruev Danov" Secondary School, Plovdiv – To celebrate the European School Sport Day, a 200-minute sports event called "Challenge me!" was organised, involving 200 students (45% of the students in the school). The extremely interesting event managed to involve 90 parents who participated on a par with their children in 26 different challenges. At the same time, everyone was given the opportunity to dance, play a ball of people, draw and entertain with full force.
"Tsani Ginchev" Elementary School, Lyaskovets – The school has organised an event "Around Lyaskovets with a bicycle", which was a combination of different physical activities – a city tour with bicycle, athletics cross, racing games with and without a bicycle, and a presentation of safe cycling in the urban environment – "How to Drive a Bicycle and Take Care of Nature". The organisers from the school attracted representatives from the local government and representatives from the Regional Office of the Ministry of Interior, Gorna Oryahovitsa. The school was actively involved in BG Be Active's initiatives during the NowWeMOVE campaign's MOVE Week – May 2016, European Fitness Day – 15 September, and European School Sports Day.
"Hristo Smirnenski" Secondary School, Kochan – The school organised a sports day for all students and the teaching staff with duration of over 5 hours. The initiative began with morning gymnastics and continued with the involvement of folk dances, gymnastics, 2016-metre-long cross on the streets of the village, a race for cyclists, "Fast, brave, skilful" and activities at a Swedish wall for the smallest. In the afternoon a hiking tour was held involving all 290 students, along with teachers and educators. The event was promoted on social and local online media.
Vocational High School of Clothing and Tourism "St. Ivan Rilski", Pernik – Special guests of the initiative in the school were the district governor Dr Alexander Aleksandrov, the mayor of the Municipality of Pernik – Yordan Pavlov, as well as the chief secretary of the district administration – Tsvetana Piralkova. The sports events for the students were in three disciplines: football, volleyball and table tennis, where five teams participated – hoteliers, chefs, waiters, bartenders and confectioners dressers in new uniforms for each of the professions studied. In addition, an amateur student group introduced hip-hop dances and 11th grade students made a boxing demonstration. Part of the day was also the longest horo by students and teachers. A special jury of pupils distinguished the most active participants, and the headmaster gave certificates to the participating teams. The event was attended by 85% of the students in the school.
In 2016 around 15% of the participating schools in European School Sport Day in Bulgaria met (320 reported) all the criteria put forward by BG Be Active for entering our Award scheme for Active Schools, including:
Variety of different types of sports and physical activity
Cross-sector partnerships, especially with local sport clubs in order to engage more students in physical activity, but also with local administration and business for organising public events
Involving wider community in the events – families and parents, other teachers, schools and local community
Communication of the activities – pictures and posts on Facebook and in local media
Reporting of the organised activities and number of involved students and adults
This made our choice for the national award for Active School difficult, but also showed us that the European School Sport Day is an initiative which is really well accepted in Bulgaria and schools are inspired by this event (and other NowWeMOVE campaign events) to bring new activities and fun for their students.
Find out more about European School Sport Day and how to register at http://essd.nowwemove.com/
BG Be Active official website http://www.bgbeactive.org/
More about Lidl in Bulgaria and the Lidl – for Your Child initiative
Leader in Europe. Fourth in the world. Leading in Bulgaria. This is how the Lidl brand appears in the fast-moving commodity trade after the first branded store opened in Germany in 1973. 2010 marks the success of Lidl Bulgaria with the opening of the first 14 stores in 11 cities in the country, and in the beginning of 2017 the chain boasts 84 stores in 44 cities. However, the success lies not in figures but in the responsible business that will make a real contribution to society.
This year Lidl Bulgaria launched its biggest child-oriented initiative – "Lidl – for Your Child". With it, the company has stated its long-term commitment to childcare by setting two goals – to contribute to their full and healthy growth and to help parents in their care for them. BG Be Active is one partners of this initiative and together, we focus our efforts on increasing physical activity among children and better conditions for sports and active lifestyles.