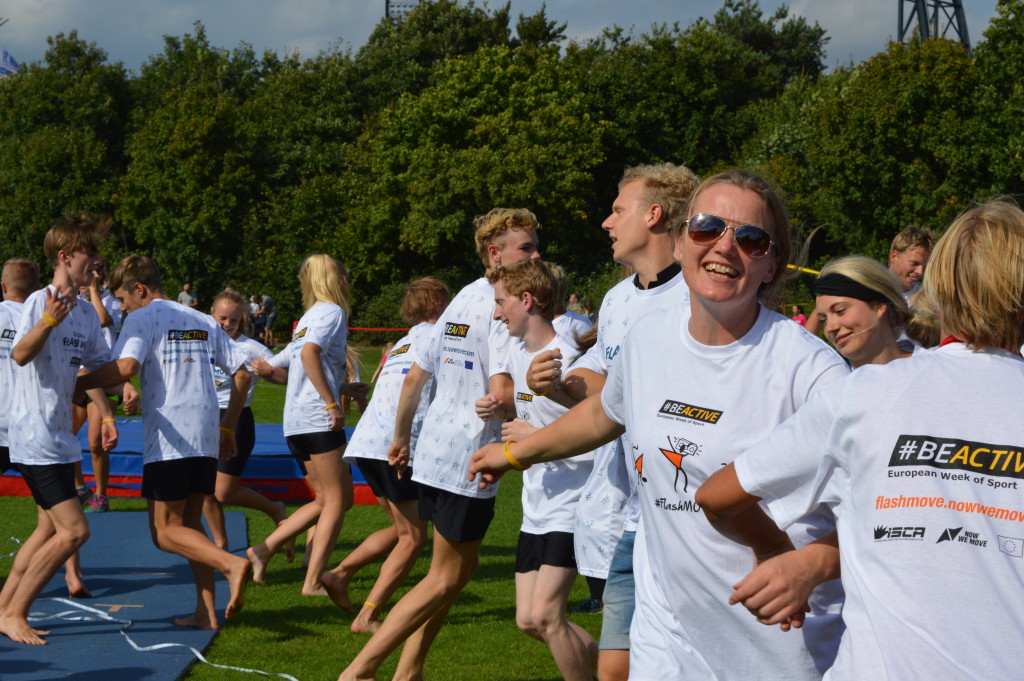 300 events in 27 countries with 9,000 dancers and 18,000 spectators became part of the biggest European initiative of the year. Even though they were scattered across the whole continent, thousands of Europeans dancing in the #BeActive FlashMOVE on 10 September 2016 were united by the same music and choreography. The initiative raised the curtain of the European Week of Sport opening ceremony in Kosice, where hundreds of children invited the crowd surrounding the stage to join them in Europe's biggest simultaneous flash mob. The official opening ceremony was live-streamed and dancers in more than 70 other cities across the continent shared their videos and photos throughout the day on social media.
FlashMOVE is an initiative developed by one of the leading European organisations in the field of sport for all, recreational sports and physical activity, the International Sport and Culture Association (ISCA). It is part of the NowWeMOVE campaign and in the last three years it has been used to create excitement in the lead-up to the pan-European MOVE Week. In 2015, the FlashMOVE took place in 70 cities of 20 countries across Europe, with more than 6,500 dancers having fun while being active.
The EU Commissioner for Education, Culture Youth and Sport, Tibor Navricsics joined the official opening ceremony and during his speech he said that the focus of the European Week of Sport message was "to make physical activity a part of your life and ignite change for the better." He congratulated all participants over Europe and encouraged them to spread the idea for being active not only during the European Week of Sport but in their everyday lives.
Some of the most active cities were Međimurje in Croatia with about 800 dancers, Plovdiv in Bulgaria with 400 dancers and Ljubljana in Slovenia with more than 300 dancers. Other large FlashMOVE events were held in Malta, Portugal, Greece, Lithuania, Poland, Spain, Belgium and Denmark. In Malta the FlashMOVE song for this year, ALE' O, provided by SportMalta especially for the initiative, was sung live by Malcolm Pisani at the St. George's Square in Valletta. In Portugal the Tower of Belem (Torre de Belém), one of the most significant monuments of Lisbon, hosted the FlashMOVE and the same dance was carried out by the INATEL Foundation, along with its partners Jazzy Dance Studios.
Footage of FlashMOVEs around Europe appeared on social media throughout the day, with cities in Malta, Belgium, Croatia, Greece, Denmark, Bulgaria, Slovenia, Spain and the UK and is now available to watch on
www.facebook.com/ISCApage
and on demand via Twitter and Facebook.
About the International Sport and Culture Association (ISCA)
International Sport and Culture Association (ISCA) is a global platform open to organizations working within the field of sport for all, recreational sports and physical activity. Created in 1995, ISCA cooperates with its 217 member organizations, international NGOs, and public and private sector stakeholders. It has 40 million individual members from 80 countries which represent a diverse group of people active within youth, sport and cultural activities.
ISCA's activities are supporting the general HEPA (Health enhancing physical activity) policy of the EU. ISCA concentrates on three key areas – activities, education and policy-making. As well as promoting events and educational programs, ISCA takes a full role in the public debate on sport and culture and strives to influence policies in these areas.
For more information about ISCA please visit
https://www.isca-web.org
About the NowWeMOVE campaign
NowWeMOVE is Europe's largest bottom-up campaign of its kind promoting sport and physical activity. Launched in 2012 by ISCA, it brings stakeholders in the sport for all from a variety of sectors together to tackle the physical inactivity epidemic across Europe. The cross-sector vision of the campaign is to get "100 million more Europeans active in sport and physical activity by 2020." The overall objectives of the campaign are to raise awareness of the benefits of sport and physical activity among European citizens; to promote opportunities to be active in sport and physical activity; and to enable sustainable and innovative capacity building for providers of physical activity initiatives through open-source solutions and advocacy.
For more information about NowWeMOVE campaign please visit
https://nowwemove.com/