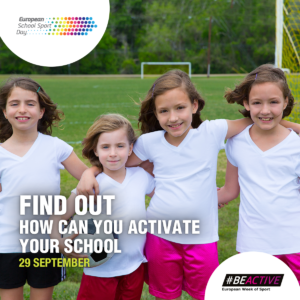 The third edition of the European School Sport Day (ESSD) is expecting to move more than 1.5 million children from 20 countries so far. Being a European initiative, we want to make this event accessible to anyone who wants to join and get connected to a bigger network of people working in school sport.
On Friday 29 September, many schools and young people will be on the move, having fun and promoting physical activity together. If you have already registered, you can download all of the practical resources for this special day right here. Outdoor banners, posters, digital content, and the ESSD toolkit which will give you everything you need to get started!
If your school isn't registered yet, you can easily register by following this link and find out how you can get ready to activate your school.