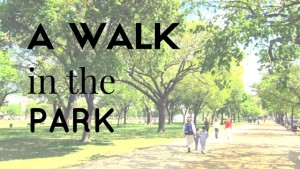 Starting a new season of outdoor movement: "Take a Walk in the Park Day"
If you are looking to finally emerge from your winter hibernation and start moving and exercising, today is your day. The 30th of March is "Take a Walk in the Park Day", and this could be seen as the Northern Hemisphere's opening event for a season full of physical activity with sun, fresh air and all the benefits of outdoors activities.
Parks and open green spaces are excellent venues to develop a healthy lifestyle. It does not matter if you are walking, running or biking, just being outside in connection with nature is one step forward into a life of movement and health. According to a study published by the University of Tennessee and recommended by the Arthritis Foundation, the benefits of a walking routine range from an improvement in blood circulation to the strength of muscles and bones, the improvement of breath due to the faster travel of oxygen through bloodstream, helping you in the elimination of waste products and improving your energy level, and bettering your mood.
On Take a Walk in the Park Day, we invite you to take the initiative to explore your favourite park in town, and here are some ideas for you to make the most of it:
• Ask a friend or a family member to join you. The combination of walking and having a nice talk will highly increase the benefits of the activity. You will not only be working out, but you will also be bonding and working on your relationships.
• Take your pet and go for a play. Animals enjoy open spaces and the chance to run free across a field will make you their best friend for life.
• Turn off your phone and music and enjoy the sounds of the natural surroundings.
• Check for new activities that are taking place. This stroll in the park can be the beginning of a new hobby like yoga, slacklining or frisbee playing.
Spring is here and is calling – are you ready to start enjoying it with an opening walk in the park? Share with us your favorite park in town under the hashtag #takeawalkintheparkday and #NowWeMOVE and spread the fun among your family and friends. And why not take it a step further and become a MOVE Agent and start supporting your local community with sports and physical activities events during 2016 MOVE Week.
For more information related to the benefits of walking, please visit the following link: https://www.arthritis.org/living-with-arthritis/exercise/workouts/walking/wow-of-walking.php