This year's No Elevators Day on 26Aapril was a success in various Balkan countries, and left many people thinking: why does it only take place once a year?
"It's such an easy way to take care of your health! We wish it would take place at least once a week, EVERYWHERE, and hopefully taking the stairs becomes a reflex!" Mirela Bitan, a 49-year-old secretary from Romania said.
In Bucharest, the Romanian Federation Sport For All organised No Elevators Day events in the Ministry of Youth and Sport. As there are 28 different sports organisations located in the building, close to four hundred people participated even without sealing the elevators. It took only a couple of Sport For All members to be present in the lobby and share the main message.
In Greece, No Elevators Day events took place in six different cities: Thessaloniki, Drama, Karditsa, Komotini, Skydra, and in Philothei-Psychico. Based on the feedback from local partners, about 5000 people were activated.
In Bulgaria, the estimated number of participants was even higher. With the help of active stair-climbers and various media channels, 43 organisations and 13 schools took part in the initiative. On the basis of participation from past years proven by a survey, BG Be Active estimated that more than 250,000 people climbed the stairs that day. Through national television broadcasts, online and traditional media, the initiative reached millions of Bulgarians.
People sealed the elevators not only in office buildings. Business centres, shops, hotels, schools, and municipalities – more than 35 buildings around the country – implemented the "no elevators" policy for the day.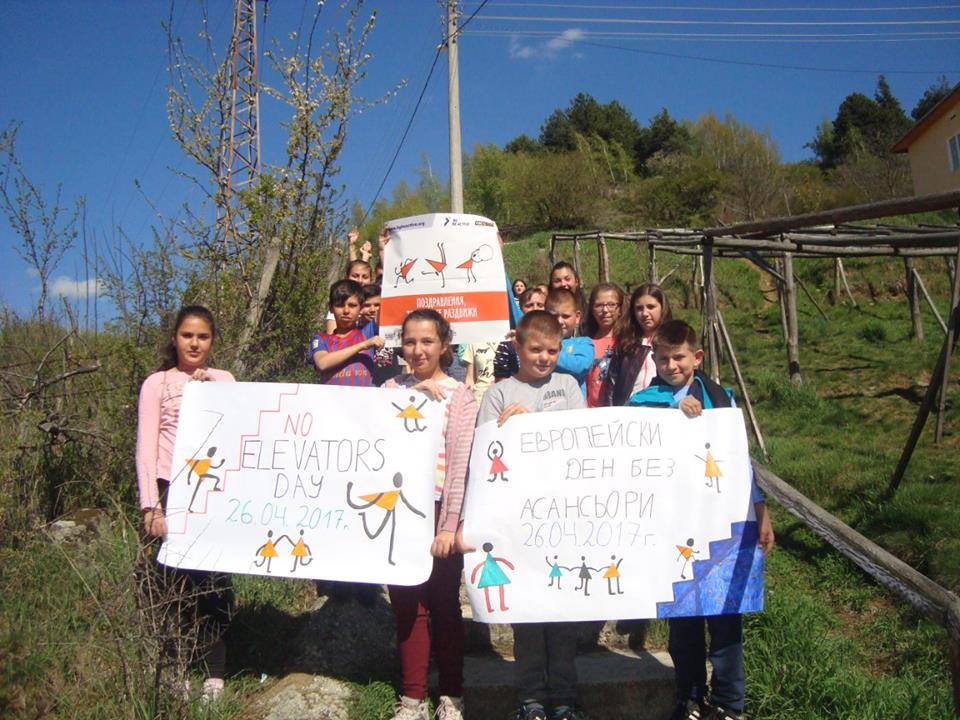 Local coordinator BG Be Active noted that participants' reactions were very positive, they were confident that similar initiatives would motivate many people and lead them a more active lifestyle.
"None of our employees were opposed to taking part in the initiative, we are even thinking that it should not be just one day but more days of the year," Ivan Dimitrov, IPSOS Game Changers Manager, said.
In Bulgaria, the events did not only take place in Sofia. In Plovdiv, the local police station and Montana municipality opted for closing the elevators for a couple of hours. In Turnovo and Lyaskovets, people were able to participate in fast climbing competitions.
Some organisations celebrated No Elevators Day for the second time. Donika Rizova, Media Group Investor, explained:
"We joined for a second consecutive year because we believe in a healthy lifestyle. Our employees are active, come to work with their bicycle, and use the stairs at work and at home. For us it is a way of life, and we hope by getting into No Elevators Day we will motivate our viewers to use the stairs."
---
Don't miss the next edition of No Elevators Day in 2018. Follow us on Twitter and Facebook for the next call for No Elevators Day MOVE Agents and in the meantime, keep climbing!