Santa uses a sleigh with reindeer to move around the globe in only 24 hours. If that was some kind of Olympic sport, he would end up with several medals around his neck for sure. But for us non-fairytale specimens, we can only move using only our own body's strength, so the holiday season is no excuse to stop moving.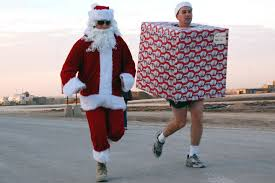 Considering the festive mood, the excessive meals and the usual "end of the year" party commitments, we are happy to share five easy things you can do to stay active, healthy and happy at this time of the year.
Walk off your Christmas dinner – and bring the party with you
It doesn't matter which side of the Equator you are on, big and long meals are a tradition everywhere. Go for a walk after each of them, invite your relatives, neighbours or friends and have a nice talk, breathing fresh air, and socialise while having a good digestive moment.
Organise an active end-of-year party
You will probably have a few more dinners or lunches arranged with your friends and colleagues from work, school, the gym or the language course you are taking. Instead of planning a drinks and food gathering, organise a physical activity meeting, like playing indoor basketball or football, or creating your own ball games. You will have tons of fun, and afterwards you can still make a nice toast!
Turn the living room into a dance floor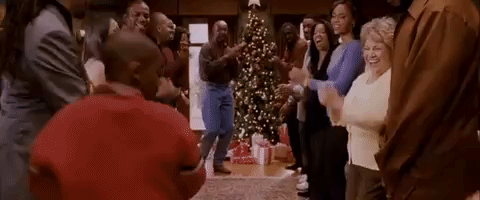 During the holiday season we often have family commitments that last for several hours. And that usually means a lot of sitting. So get your family moving by shifting the living room furniture around and creating a dance floor that will turn your epic eating and lounging fest into the liveliest family party ever.
Look out for holiday-themed activities
Many cities organise holiday-themed activities, like Santa's fun runs in the United Kingdom or a Polar Splash on the first day of the year happened in different locations of the northern hemisphere . Find out if there are any activities like these happening close to you and instead of the annual ritual of watching Home Alone or Disney Christmas specials on TV, head towards the fun and action that is happening in your community.
Shop 'til you drop
Avoid doing your Christmas shopping online in the comfort of your lounge chair. If your plan is to get several presents from shops all around town, plan a walk and shop day instead. You will be able to see exactly what you are buying while moving around at the same time.
The holidays are a time to share with those you love, and there is no better way of sharing these good moments than by being physically active. So, no matter where you are, or with whom you are spending these moments, use this season to #FindYourMOVE.
See you next year for more stories on the perks of being physically active all year round!